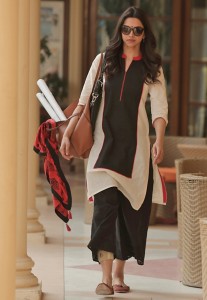 Lovely "road trip" movie from India follows all the genre conventions, but still manages to take us to places both old and new. Directed by Shoojit Sircar. Screenplay by Juhi Chaturvedi. (JLH: 4/5)
*************************
"Piku" (Deenika Padukone) is a very modern young woman–independent, assertive, career-oriented, and always in control… Well that's what she would like everyone to believe.
But the reality is that Piku is very much under the thumb of her persnickety father "Bashkor Banerjee" (Amitabh Bachchan), a widower who demands her constant attention. Even in business meetings–when Piku is face-to-face with important clients–Bashkor insists that she take his calls. And sometimes she must even leave the meeting altogether to dash home to care for him, even though she knows from long experience that there is no cure for Bashkor's hypochondria.
Can anything be worse? Yes! Every time an eligible man appears on the horizon, Bashkor is quick to tell him that he has raised a "modern" daughter, pretending to be proud of Piku, but actually announcing to the started young man–in public–that his beautiful daughter is no longer a virgin.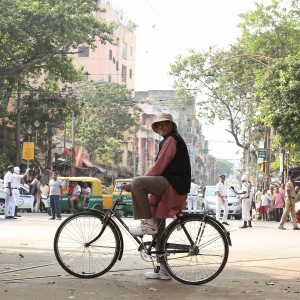 Is it any wonder that when Bashkor announces that he wants to visit his old family home in Kolkata, Piku is happy for an excuse to get away from Delhi for a few days?
But how will they get there? Bashkor will not fly and he will not take a train. No, of course not: Bashkor wants to pack a car to the brim with everything he "needs," and that requires a driver. Enter "Rana" (Irrfan Khan)–a man with mother troubles to match Piku's father troubles. And thus the journey–of almost 900 miles–begins…
Piku follows all the conventions of the "road trip" genre, but because it is set in India, there are many stops along the way that will be new to Western eyes. On the one hand, the highway system with its graded on/off ramps look like those found anywhere in the "Developed World." On the other hand, the accommodations to be found in the Holy City of  Varanasi (on the Ganges River) seem to come from another century, and poor Rana has to beg for a spot on a sofa when they are there.
These extremes are most evident in Kolkata. One look at the house in which Bashkor and his brother were raised makes it clear that the Banerjee family once had great wealth and prominence. But now the neighborhood around the house has grown seedy, and a bustling new India dwarfs its quaint charm.
Although he is not widely known in the West, Amitabh Bachchan, the actor who plays "Bashkor Banerjee," is a venerated cinema star who has been winning acting awards in India for decades, . However, Irrfan Khan, the actor who plays "Rana," will be recognizable from roles he's played in many recent break-out films such as The Namesake, Slumdog Millionaire, Life of Pi, and The Lunchbox. So in some sense these two actors do have sensibilities which represent "Old India" versus "New India."
I don't remember having seen Deenika Padukone on screen before (although I have seen–and loved–many, many Indian films), so I was delighted to "discover her" in the central role of "Piku." Padukone beautifully captures the full range of her character's emotions. She is a talented comedienne who encourages the audience to laugh with her at Piku's often high-handed response to her predicament (as opposed to laughing at her many foibles). But she is also tender and loving with her father, and when she tells Rana why she stays with Bashkor (even though she clearly isn't getting any younger), my heart was in my throat.
So get in the car and travel to Kolkata with Piku. You'll be glad you did!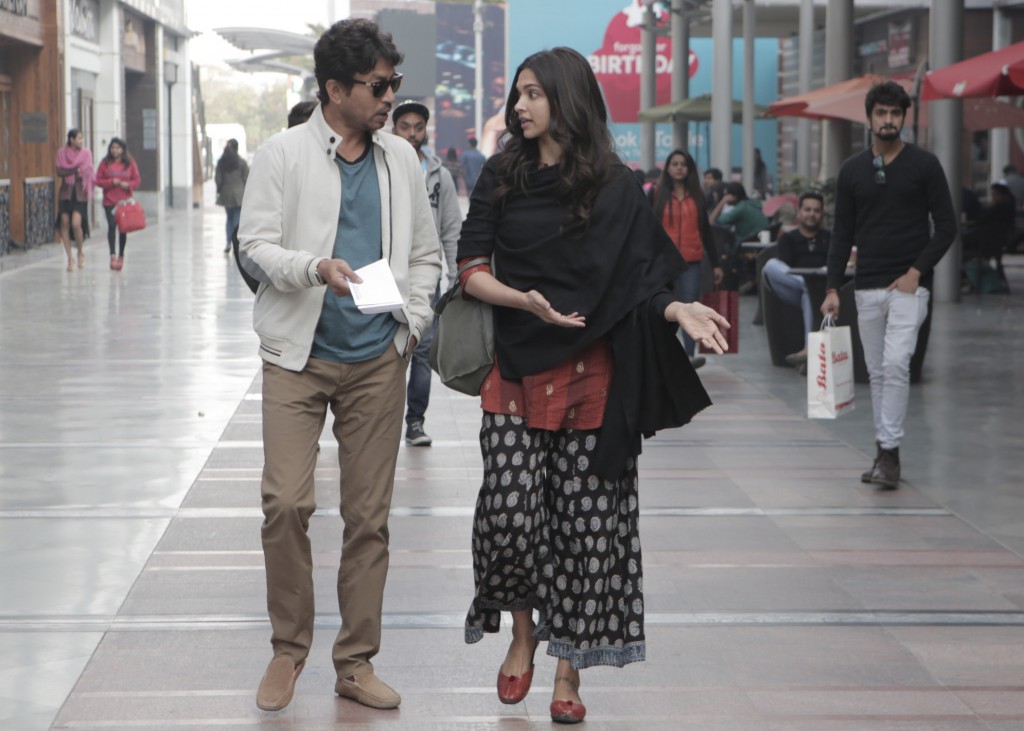 Top Photo: Deenika Padukone as "Piku" at home in Delhi.
Middle Photo: Amitabh Bachchan as Piku's father "Bashkor Banerjee" cycles around his old neighborhood in Kolkata.
Bottom Photo: Piku and "Rana" (Irrfan Khan) go out sightseeing.
Photo Credits: Yash Raj Films
Map (below) pulled from Mapquest.
Q: Does Piku pass the Bechdel Test?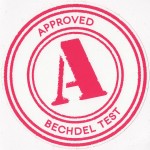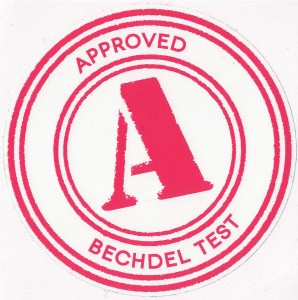 Yes… but just barely.
Piku has side conversations about her mother with various aunts and family members, but most of her conversations–with everyone–are centered around her father Bashkor… which is just how he likes it!!!
Q: How do you get from Delhi to Kolkata? Note that Varanasi is approximately halfway, whereas Mumbai is on the opposite side of India (in the bottom left corner of this map.)