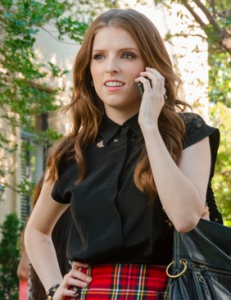 Review of Pitch Perfect 2 by Associate Editor Brigid K. Presecky
New song numbers and endearing new characters balance whatever charm is lost in the much-anticipated a cappella follow-up. Writer Kay Cannon and Director Elizabeth Banks bring the Bellas back to the big screen in a fun, if slightly less focused, sequel of the 2012 hit Pitch Perfect. (BKP: 4.5/5)
****************************
The original film's lead protagonist, "Beca" (Anna Kendrick) steps back into the ensemble as Pitch Perfect 2 shines a brighter light on supporting character, "Fat Amy" (Rebel Wilson). When the Bellas perform at the Kennedy Center, their prone-to-disaster group faces another embarrassment: Fat Amy flashes her genitalia to the Barack and Michelle Obama. The Bellas are suspended and restricted from performing anywhere besides Copenhagen for a chance to compete for the world championship of a cappella.
The main conflict, however, is still rooted with Beca who is trying to keep her music-producing internship from her friend — and Bellas-enthusiast — "Chloe" (Brittany Snow). Although the conflict is somewhat weak, Beca's time at her internship provides substantial humor thanks to her intense boss played by Keegan-Michael Key. Like so many college graduates, Beca is unsure of her future and her abilities as a music producer. But it isn't long until Fat Amy gives her some much-needed confidence (and gives Rebel Wilson more material than the first film).
The bigger problem arises with the Bellas having to compete with a German a cappella group, the robotic-like Das Sound Machine. Their musical showdowns (with cameos from Arrested Development's David Cross … and the Green Bay Packers) are what audience members have flocked to see. It won't be long until the upbeat musical-mashups become hits on iTunes, crossing decades and genres to appeal to a wide audience.
Sequels often strive to recreate the magic of the original, but Pitch Perfect 2 veers into a different lane and focuses on other characters. The love story of Beca and "Jesse" (Skylar Astin) is unfortunately set on the sidelines to make room for Bellas newcomer "Emily" (Hailee Steinfeld), who effortlessly fits into the group and is given her own love story.
Banks smoothly directs her first feature-length film with the help from Cannon's familiarly witty script. However different than Pitch Perfect, the sequel is equally enjoyable, particularly when the Bellas sit around a campfire and reprise their aca-anthem "When I'm Gone." The film includes a new original song by Jessie J, Flashlight, that is sure to be remembered indefinitely – just like the Bellas themselves.
Review © Brigid K. Presecky (05/15/15)
Top Photo: Anna Kendrick as "Beca"
Bottom Photo: The Bellas perform Jessie J's Flashlight
Q: Does Pitch Perfect 2 pass the Bechdel Test?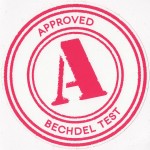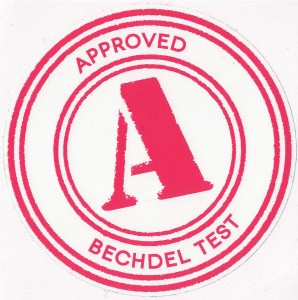 Absolutely!
Almost the entirety of the film passes the Bechdel Test. It is focused on the relationship of the Bellas and their quest for the world champion title.