To Alison Bechdel: "Your swagger and your bearing and the just right clothes you're wearing… We know you!"
Today's Aphorism is "Never make the perfect the enemy of the good." Or in words attributed to Confucius: "Better a diamond with a flaw than a pebble without."
When I wrote my rant about the Fun Home nominations last Saturday (MEANT TO BE BROKEN), I knew my wish would never come true. I know how hard it is for most people to "think outside the box," let alone make such a big leap at such an important–and very public–televised event.
But by spelling out my reasons for suggesting that the Tony Award for Best Performance by an Actress in a Lead Role in a Musical should go to "The Three Alisons," my hope is that I will help make something possible in the future that was not possible in the past. In this way, I honor great innovators like Alison Bechdel… and my own personal hero Jerome Robbins.
But today is a day to celebrate! Fun Home won five Tony Awards last night–including Best Musical–and that is quite some set of diamonds!!!
Equally important, the Tony Award for Best Original Score went to Lisa Kron (Lyrics) & Jeanine Tesori (Music). This is the first time a female creative team has ever won this prestigious award, and it puts their names with the names of some of the most illustrious teams in musical history: Gilbert & Sullivan, Rogers & Hamerstein, Kander & Ebb, and of course Harnick & Bock. I hope that having found each other, Kron & Tesori will now work together again and again until they have also established themselves as household names.
(Note that this was Lisa Kron's first major musical. Jeanine Tesori won my heart ten years ago for the music she wrote for Caroline, or Change, in which she made me cry by giving voice to Caroline's washing machine and her dryer.)
Fun Home is quite simply a "game changer" [a ground-breaking Broadway equivalent of what Thelma & Louise meant to so many of the women who first saw it on the Big Screen] and a milestone for women in Arts & Culture. I am privileged to have seen it twice, so I speak with total confidence on this point!
The show also won for Best Book of a Musical (Lisa Kron), Best Direction of a Musical (Sam Gold), and Best Lead Actor in a Musical (Michael Cerveris). And in the non-musicals category, Marianne Elliott also won for Best Direction of a Play for her work on The Curious Incident of the Dog in the Night. YOWZA 🙂
BONUS: Click HERE for an additional thoughts on all this by my colleague Martha Richards (Executive Director of WomenArts) who actually knows Lisa Kron, and can therefore extend the warm congratulations of our whole SWAN bevy to Lisa personally.
Please join us as we continue to Support Women Artists Now!
© Jan Lisa Huttner FF2 Media (6/8/15)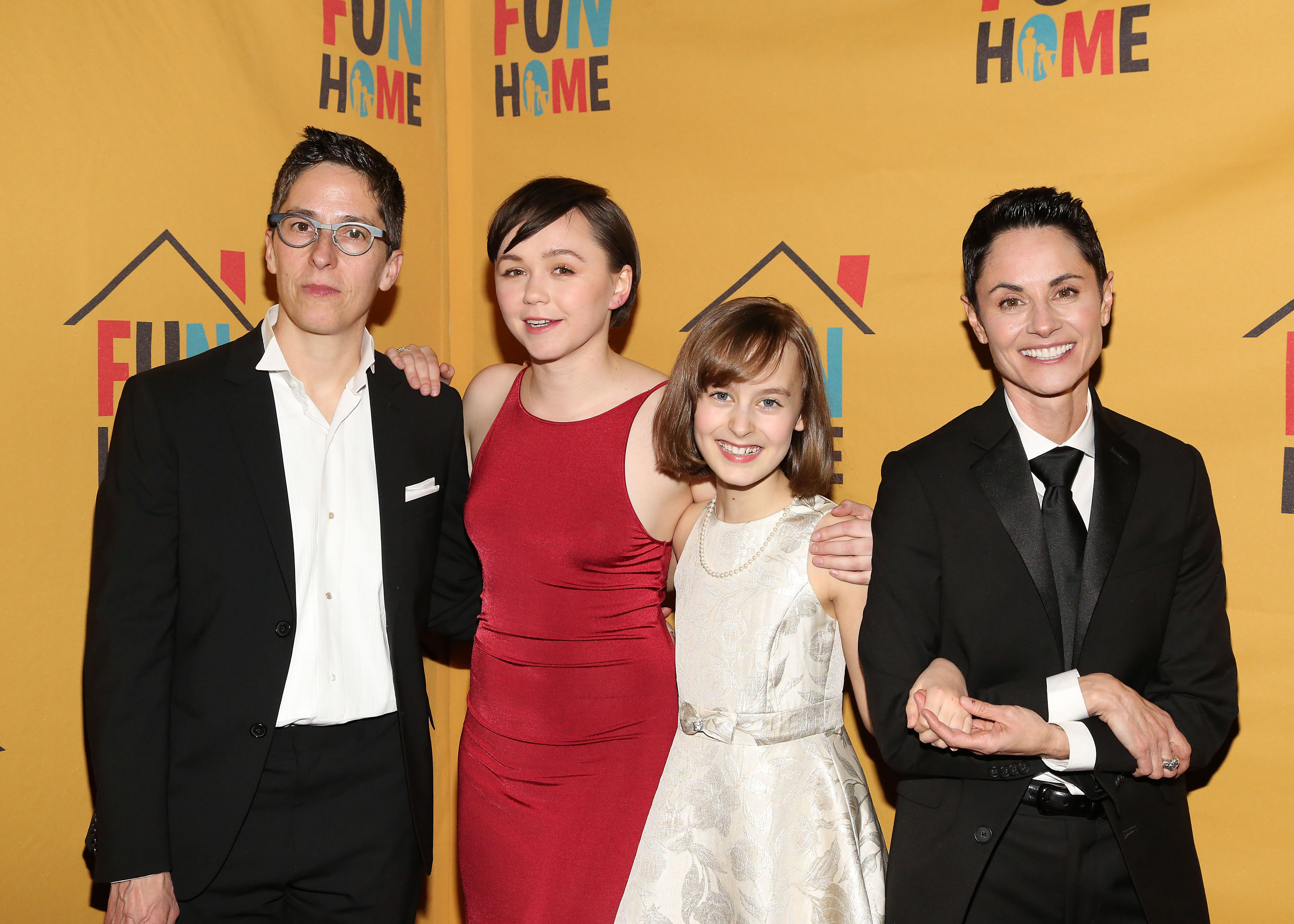 Top Photo: Lisa Kron (L) and Jeanine Tesori (R), winners of the award for Best Original Score (Music and/or Lyrics) Written for the Theatre for Fun Home, pose in the press room at The 69th Annual 2015 Theatre Wing's Antoinette Perry "Tony" Awards Press Room in New York, NY, on June 7, 2015. (Photo by Anthony Behar) *** NewsCom TagID: sipaphotosfive481353.jpg)
Bottom Photo (from left to right): Alison Bechdel with Emily Skeggs (Ohio Alison ~ age 18), Sydney Lucas (Pennsylvania Alison ~ age 14), Beth Malone (Adult Alison = Alison-the-Artist) –  April 19, 2015 – Opening Night Curtain Call and After Party for Fun Home held at Urbo Restaurant, 11 Times Square, NYC.. (Photo by Sylvain Gaboury/Patrick McMullan) *** (Newscom TagID: sipaphotosfive347584.jpg)