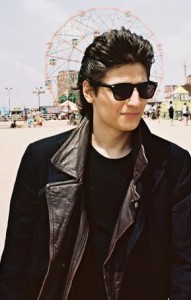 First-time filmmaker Crystal Moselle documents the unsettling and fascinating story of seven siblings who were essentially imprisoned in their Lower East Side apartment for more than 15 years. Although the Sundance Film Festival Grand Jury Prize winner is interesting and heartbreaking, the cryptic situation leaves many questions unanswered. (BKP: 4/5)
Review by Associate Editor Brigid K. Presecky
First-time filmmaker Crystal Moselle follows the six Angulo brothers (largely ignoring a sister with developmental issues) as they reflect on their lives lived almost entirely in seclusion. Educated through homeschooling and living on welfare, their only experience of the "outside world" came through movies – 5,000 of them, to be exact. The boys would write down dialogue and reenact movies in the claustrophobic confines of their New York City apartment.
But not all of their time was spent joyfully bonding over entertainment. The children–and their mother Susanne–lived under the psychotic rule of their socially-inept father, Oscar Angulo. At times, his strict rules forbid each child to move freely from room to room, let alone venture outside the apartment. It is equal parts disturbing and sad, difficult for any viewer to comprehend.
In 2009, everything changed as Oscar left the apartment for groceries and the third youngest boy, Mukunda, escaped the apartment with a Halloween mask draped over his face. As he was experiencing freedom, his outward appearance in an alarming disguise caused passersby to call the police, and the investigation into the Angulo family began.
Had it not been for Mukunda's brave actions, Crystal Moselle would have never been able to tell their bizarre story. She successfully captures the personalities and heartache of each of the six Angulo boys, letting them reveal their feelings of anger, frustration and resentment at their own pace. The audience can easily sympathize with these children, even more so because of their down-to-earth, good-natured spirits in spite of everything.
Moselle allows the family tell their story on their own terms, but seemingly stays on the surface. How did this happen? The audience is given bits and pieces of backstory, revealing how matriarch Susanne went from an adventurous Midwesterner to an abuse-victim all because she fell in love on a trip to Machu Picchu. How did she get from point A to point B? Didn't any of the neighbors notice? What was the reaction from the police when they found Mukunda wandering the city streets in a killer's mask?
Outside voices would have made more sense of the situation, but sense is not Moselle's purpose. Instead of dwelling on the past or Oscar's years-worth of abuse, she focuses on the six brothers making the best of their situation. She captures them venturing out into the world and enjoying their first movie in an actual theater. She shows them splashing water and walking to the beach, as "The Wolfpack," dressed in their gangster-like jackets.
Viewers might want Moselle to reach for better answers regarding the past, but instead she shifts the film's theme to hope and the future, showing Susanne Angulo and her seven children embracing life, fresh air and the freedom they had always longed for.
© Brigid K. Presecky FF2 Media (6/20/15)
Top photo: An Angulo son dresses up as on of "The Wolfpack" to go to the beach.
Bottom photo: The Angulo children watch a movie.
Photo Credits: Magnolia Pictures (2015)
Q: Does The Wolfpack pass the Bechdel Test?
No.