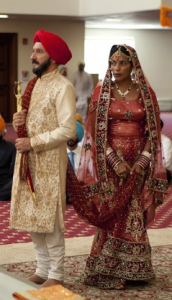 Isabel Coixet brings us a feel good unconventional romantic comedy about a woman going through a divorce, who decides it is time to learn to drive so she can visit her daughter. Through all the ups and downs, she finds surprising support and friendship from her driving instructor. (JEP: 3/5)
Review by Contributing Editor Jessica E. Perry (plus Jan adds her Two Cents at the very bottom)
"Wendy" (Patricia Clarkson) and her husband "Ted" (Jake Weber) have done everything right. They live in a beautiful brownstone in Manhattan, share a love of books, and have been great parents to their daughter "Tasha" (Grace Gummer)—who is now a grown woman and out of the house.
But one day Wendy learns that Ted has been cheating, and that it is not just another one of his "phases", but instead long-term, and cause to end their marriage. Alone in Manhattan, Wendy is left to deal with all the mess that comes with divorce.
One morning there's a knock at the door of the brownstone, and when Wendy opens the door, she finds "Darwan" (Sir Ben Kingsley) standing there with a package in his hand. He has come to return something that Wendy left in his cab. As he leaves, she sees he is driving a different car, and then she spots the sign atop it that advertises driving lessons. Darwan won't accept a tip for the return of her package, so Wendy asks how she can contact him about driving lessons.
It turns out Wendy does not have a driver's license because in Manhattan she's never needed one. Anytime they went anywhere, Ted would drive. But Wendy's situation has changed, and in an effort to visit her daughter in Vermont, she decides to take driving lessons.
Meanwhile, Darwan is being pestered by his sister back in India to find a wife. He eventually agrees to an arranged marriage, and his soon-to-be wife "Jasleen" (Sarita Choudhury) comes to Queens where they will be wed.
Darwan is a patient teacher and a good listener and Wendy may be a nervous student, but she is caring and takes an interest in Darwan's life and culture. The two find common ground, and a friendship (with a poorly executed romantic storyline) grows. Both are going through drastic shifts in their lives and they lean on each other for support.
Learning to Drive was well intentioned and a nice watch. But it was just nice. There were silly flaws in the storyline where there did not need to be, flaws that appeared to have been overlooked by screenwriter Sarah Kernochan.
The haphazard romantic hints between Darwan and Wendy were completely unnecessary, and honestly, at times uncomfortable. What the two characters needed from each other, and eventually received, was friendship and guidance—not romance. So the romantic undercurrent was awkward and made for out of character moments for both Wendy and Darwan.
However, both Patricia Clarkson and Ben Kingsley delivered strong endearing performances, begging me to love the film more than I did. As a whole, Learning to Drive was good time at the theater and a feel good film. But try as I may, I cannot say director Isabel Coixet hit it out of the park.
© Jessica E. Perry FF2 Media (8/23/15)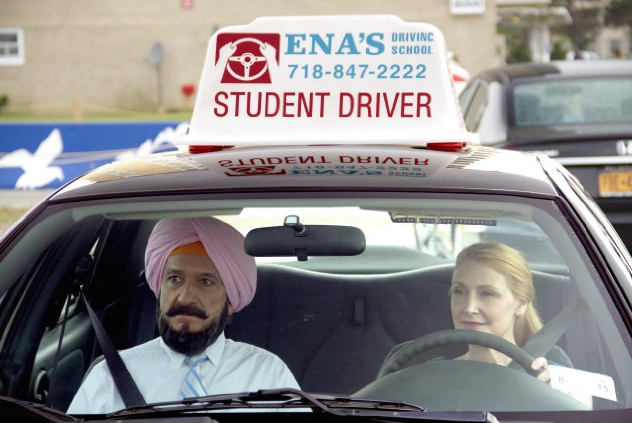 Top Photo: Darwan marries Jasleen in a traditional Sikh wedding ceremony.
Middle Photo: Wendy and Darwan mid driving lesson.
Bottom Photo: Darwan rewards Wendy with a trip to the beach after she successful crosses her first bridge.
Photo Credits: Linda Kallerus
Q: Does Learning to Drive pass the Bechdel Test?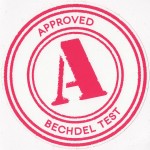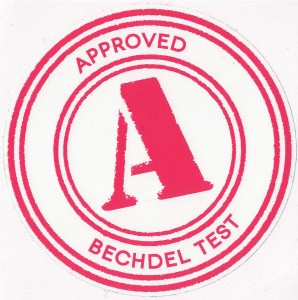 Yes!
Wendy and her daughter Tasha discuss Tasha's decision to live in Vermont. Tasha points out that Wendy will never be able to visit her there if she doesn't learn how to drive.
Meanwhile Jasleen finally finds the courage to explore Queens by herself. She meets a new friend in a convenience store who then introduces her to other women in the Indian ExPat community.
+ JAN'S TWO CENTS: Wendy also has a few crack-up scenes with Samantha Bee as her sister "Debbie." Are riffs on Blow Jobs about a man, about men in general, or what? Me, I think riffs on Blow Jobs are riffs on Blow Jobs, and in my book, riffs on Blow Jobs pass the Bechdel Test 😉

This old lady is a bit sad to learn that Jess is so hard on Wendy and Darwan 🙁
Without giving too much away, I don't think Wendy ever has a romantic interest in Darwan (altho she is certainly intrigued by and mystified by the concept of an arranged marriage). But by the end, it becomes clear that Darwan cares a bit more for Wendy than he should. The question is what interests him and why, and this requires the viewer to "follow the breadcrumbs" to the heart of darkness in Darwan's past.
Darwan grew up in Punjab. He was a university professor who came from a prominent Sikh family, but that life ended when they were caught up in India's crackdown on militants after the assassination of Indira Gandhi in 1984. Darwan tells Wendy that he, his parents, and his brothers were all imprisoned and tortured. He tells Wendy that the only family member who not imprisoned was his sister, and she only escaped because the authorities thought she was too young to have any involvement in whatever the authorities thought the rest of Darwan's family was involved in (which is never actually specified). What is specified is that Darwan arrived in the USA in 2000, and he was granted political asylum… right before 9/11…
So this very refined and educated man has been living an extremely lonely life for decades, with none of the intellectual stimulation he once took for granted. And then he meets Wendy… 
In this chamber music duet, Wendy is the soprano and Darwan is the pianist. Even though Kingsley–who won an Oscar playing Mahatma Gandhi in 1982–gives Clarkson all of his attention, the film loses its meaning if we lose sight of him.
This is director Isabel Coixet's second film with Kingsley. The first was Elegy (co-starring Penelope Cruz), which I also loved. Once again, Coixet's casting is impeccable. Grace Gummer is lovely as "Tasha," as is Sarita Choudhury as "Jasleen." (Old folks like me might remember Choudhury from her steamy love scenes with Denzel Washington in Mira Nair's film Mississippi Masala; youngsters might recognize her as someone currently playing a supporting role on Homeland.) Samantha Bee is a hoot as Wendy's sister "Debbie," and Avi Nash (who plays Darwan's nephew "Preet") is absolutely adorable.
After one too many INS raids, Preet–who has been hiding out illegally in Darwan's apartment–tells Darwan that he is moving to Chinatown to live with his girlfriend. Not to worry, says Preet, she's Jewish… and yes, my heart did a little leap in that moment for the miracle that is America!
Bottom Line: This time Jessica and I must agree to disagree. For me, Coixet definitely did "hit it out of the park." (JLH: 4.5/5)
© Jan Lisa Huttner FF2 Media (8/24/15)