Jennifer Lawrence stars as a semi-fictionalized version of Miracle Mop entrepreneur, Joy Mangano. Writer/Director David O. Russell and Annie Mumolo construct a thoroughly enjoyable story of a woman enduring the hardships of family, parenthood and a self-made business. (BKP: 4.5/5)
Review by Associate Editor Brigid K. Presecky
Like most little girls, "Joy" daydreamed of all the things she would accomplish as an adult. With inspiration from her "Mimi" (Diane Ladd), Joy believed she could grow up to be anyone she wanted and do anything she wanted.
But life has a way of intervening. Kids need to be cared for and bills need to be paid. Ex-husbands need a place to stay and pipes need to be replaced … at least in Joy's world. Lawrence leads an impressive cast of characters who play an eclectic mix of her family, people who constantly push and pull for her attention and time. Viewers are introduced to her stressful world, making the journey of her "Miracle Mop" story that much more satisfying.

When a red wine spill causes Joy's hands to be
wet and bloody, the idea for a self-wringing
mop was born, specifically, the "Miracle Mop," complete with a continuous loop of 300 feet of cotton and a detachable, washable head. We see the journey from the original crayon-drawn drafts to the struggles of manufacturing to Joy's eventual showcase on QVC.
Bradley Cooper plays "Neil Walker," an executive at QVC who gives Joy the opportunity to display her product on live television. Joy is the fourth film with both Lawrence and Cooper (the third David O. Russell film) and their chemistry, whether or not their characters are romantically linked, is consistent and engaging. To round out the infamous David O. Russell trio, Robert De Niro plays Joy's father, "Rudy," in a much smaller role than Silver Linings Playbook.
One of the most interesting characters, aside from Joy, herself, is her ex-husband "Tony" (Édgar Ramírez). Their relationship is different than almost all depictions of divorce in feature films. The two play friends, confidantes and business partners, looking out for each other – and their two children – when times get tough. Although this relationship was a tiny element in a screenplay packed full of content, its uniqueness stands out.
The 124-minute running time never drags, even though Joy's journey is a difficult one. Lawrence's characterization of Joy makes it easy for viewers to sympathize with her desire to create something out of nothing. At one point in the film, Joy says that "Mimi was wrong" – that her grandmother should never have encouraged her to follow her heart and her dreams. Russell and Mumolo are proof that she wasn't wrong – that insurmountable obstacles can be overcome, even ones that come in mop-shaped packages.
© Brigid K. Presecky FF2 Media (12/30/15)
Middle & Bottom Photo: Jennifer Lawrence plays a semi-fictionalized "Joy Mangano," the creator of the Miracle Mop.
Photo Credits: 20th Century Fox
Q: Does Joy pass the Bechdel Test?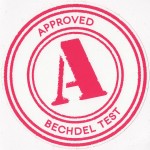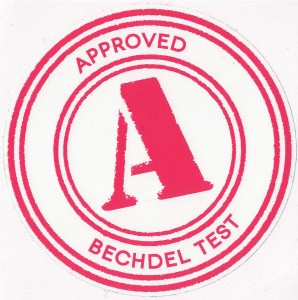 Absolutely!
Joy has scenes with her mother, grandmother, daughter, half-sister and best friend … almost all of which pass the Bechdel Test. Highly recommended!