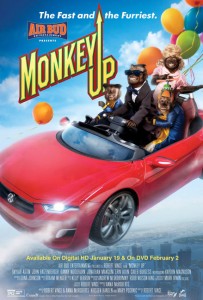 From the creators of Air Bud, writers Kirsten Hansen, Anna McRoberts, and Robert Vince, bring us Monkey Up. A tale about an entitled monkey who believes he deserves better acting roles than the commercial spot he has been given. Monkey Up has the potential to be another great children's movie, but sadly, this one is no Air Bud. (JEP: 2.5/5)
Review by Contributing Editor Jessica E. Perry
"Monty" the monkey (voiced by Skylar Astin), is stuck doing commercials for the energy drink Monkey Up. But Monty believes he is destined for greatness, and an Oscar is in his future. When he learns that big time Hollywood director "Angelino Cappello" (Danny Woodburn), plans to use a CGI monkey in his new film instead of casting a real one, Monty takes this as his chance to crossover from commercials into the world of film. Because a real life, talking acting monkey, what director wouldn't jump at the chance to work with him?
Turns out … this one. Cappello insists that his film is about family and human relationships, and Monty is far too self-centered and entitled to know the value of family. Carted out of Cappello's office, Monty finds himself momentarily discouraged, but still refuses to go back to his commercial deal with Monkey Up.
So Monty proceeds to sneak into a toy store, deciding to sleep in a giant dollhouse for the night. This specific dollhouse, however, is scheduled to be delivered that night to the young "Sophie Andrews" (Kayden Magnuson).
When Sophie spots Monty the next morning in the dollhouse, she an
d the monkey become fast friends. As payment for Monty to "rent" out the dollhouse for a few days while he hides out, he agrees to help Sophie conquer her fear of the balance beam for her gymnastics performance.
Monty proceeds to have interactions with other members of the family, but they all keep his presence a secret from one another. Monty helps Sophie's brother "Ethan Andrews" (Caleb Burgess) with his audition for a Shakespeare play in return for unlimited jellybeans. And he helps the children's father "Jim Andrews" (Jonathan Mangum) write his screenplay. But of course, Monty demands to be the star of the film once it gets made.
Thought it all, Monty begins to learn the value of family and friendship, and becomes (only slightly) less entitled. When the owner of Monkey Up "Stan" (Chris Coppola) demands Monty be returned to him because of a contract deeming the monkey to be his property, the Andrews family must help save Monty from falling into Stan's clutches so he can follow his dream of becoming a movie star.
Now, my brother and I loved Air Bud as children, and with the same team that brought us that film, one should hope that Monkey Up may just live up to its predecessor. But what can I say? This film is riddled with plot holes, bad acting, and filmic shortcuts.
At one point in the film, the little boy gives the monkey his phone number, which is 555-6789. Really? 555-6789? Okay then… This one instance sums up the entire film. Simply put, Monkey Up lacks originality. It is a formula we have seen many times before, and done better. At best Monkey Up is passible as a watchable family film, but with the creative team behind it, it had the potential to be more.
© Jessica E. Perry FF2 Media (1/31/15)
Top Photo: Monkey Up poster.
Middle Photo: Monty helps Ethan learn his lines to land the part in the school play.
Bottom Photo: Ethan and Sophie listen to Monty's speech on why bananas are good for you.
Photo Credits: Freestyle Releasing
Q: Does Monkey Up pass the Bechdel Test?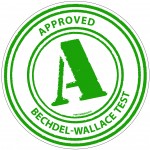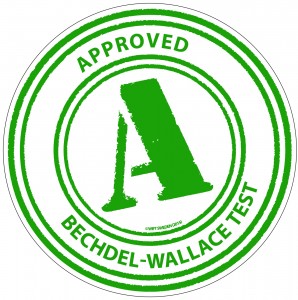 Yes.
Sophie and her mom "Clare Andrews" (Erin Allin O'Reilly) have an extremely brief conversation about how she said she was going to take Sophie to school. But when work calls Clare drops everything and runs off to the office.