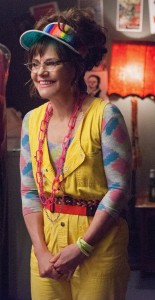 Filmmakers Laura Terruso and Michael Showalter bring us a wonderfully crafted romantic comedy about a 60-something year old woman who falls for her much younger coworker. Hello, My Name is Doris is clever, moving, and wonderfully acted. Do yourself a favor and don't miss this film! (JEP: 4.5/5)
Review by Contributing Editor Jessica E. Perry
Sally Field is impeccably cast as "Doris Miller," a 60-something year old woman who has spent her life devoted to caring for her mother. Doris has never done anything for herself, even breaking an engagement and sacrificing her career to be there for her mother. When the film opens, Doris' mother has just passed away, meaning her world has now completely shifted, her identity grounded in the past.
Still living in Staten Island in her childhood home and in her childhood bedroom, Doris clings to every item in the home, insisting each carries meaning. However, everyone else around her—including her brother "Todd" (Stephen Root) and his wife "Cynthia" (Wendi McLendon-Covey)—consider it hoarding, and urge Doris to get rid of the "trash," sell the house, and move closer to her job in Manhattan. But Doris isn't having any of it.
Doris has been at the same job for years, logging data entry day after day. But when a new, much younger coworker, "John Fremont" (Max Greenfield) moves to the New York office from LA, Doris is immediately attracted to him, no matter their age difference. Doris' overactive imagination takes hold in a few hysterical scenes where she daydreams about she and John together, only to be broken out of her reverie by a confused coworker, or John himself!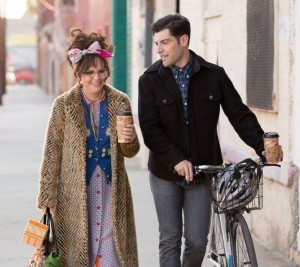 When Doris and her longtime best friend "Roz" (Tyne Daly) attend a self-help seminar, the words of self-help coach "Willy Williams" (Peter Gallagher) encourage Doris to finally start living her life and take a chance on romance. Her new mantra goes from "impossible" to "I'm Possible."
With a slightly new outlook on life, Doris begins to pursue John, garnering the help of Roz's thirteen-year-old granddaughter "Vivian" (Isabella Acres). Creating a fake Facebook page to learn about his interests, Doris begins to connect with John over their "shared" love of John's favorite electronic band. So what else to do besides buy a copy of the band's CD for yourself, and as a 60-something year old woman, dance around your childhood bedroom to the favorite music of a man half your age. Doris and John begin to connect over their "shared" musical interests, and Doris begins to believe that a relationship out of her wildest fantasies may just be possible.
Hello, My Name is Doris is clever, laugh-out-loud funny, and touching. The film is really a story about a woman trying to find herself for the first time, a woman who has never lived a life for herself, suddenly thrown into new circumstances that force her to redefine her identity. Screenwriters Laura Terruso and Michael Showalter handle Doris' growing friendship with John brilliantly. Doris is a compelling character fully realized through Sally Field's stunning performance, and Max Greenfield is her perfect counterpart, allowing Hello, My Name is Doris to capture audiences from the very beginning.
© Jessica E. Perry FF2 Media (4/2/16)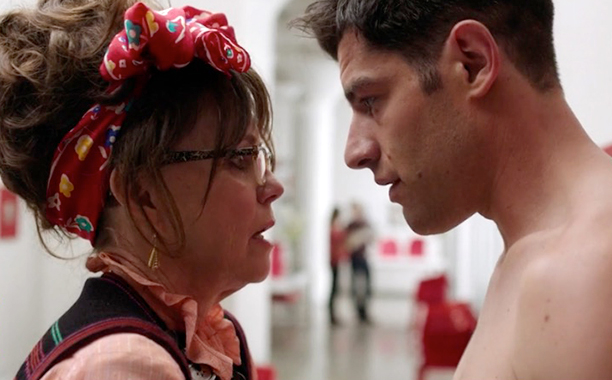 Top Photo: Doris dresses up to attend an electronic concert, hoping John will be there as well.
Middle Photo: John turns to Doris for advice after his breakup.
Bottom Photo: During one of her fantasies, Doris and a shirtless John grow close.
Photo Credits: Aaron Epstein
Q: Does Hello, My Name Is Doris pass the Bechdel-Wallace Test?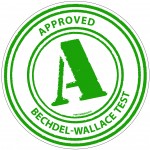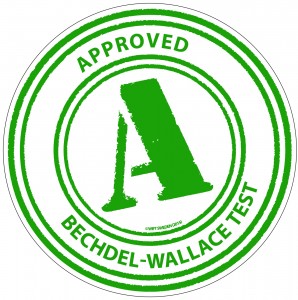 Of course!
Doris and Roz share many conversations together including hysterical topics like not wanting to grow into old cat ladies. What's more, Doris sees a therapist "Dr. Edwards" (Elizabeth Reaser) and the two women share multiple conversations about Doris' mother and getting rid of the clutter that's overrun her home. Doris and John's girlfriend "Brooklyn" (Beth Behrs), also talk about things like rooftop knitting circles and feeling whole in Staples.
So in short, yes Hello, My Name is Doris passes the Bechdel-Wallace Test with flying colors. 🙂