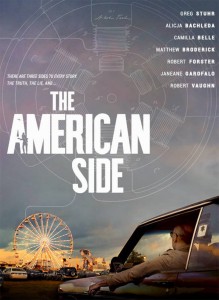 Actor/writer Greg Stuhr's insight and appreciation for his birthplace, Buffalo, New York, and the Niagara Falls area is featured front and center in The American Side, his collaborative detective drama directed and co-written by Jenna Ricker. Although the material isn't particularly new and noteworthy here, Stuhr's passion for this story shines through. (BKP: 3/5)
Review by Associate Editor Brigid K. Presecky
Stuhr stars as hard-scrabble, no-frills detective "Charlie Paczynski" who, in cahoots with his stripper girlfriend, devotes most of his nocturnal sleuthing to tracking cheating spouses for cash. When one of his routine gigs turns unexpectedly tragic, Paczynski finds himself in swirl of intrigue involving no less than Serbian-American engineer and inventor Nikola Tesla (1856-1941). Be patient. It's all explained eventually – sort of.
Paczynski is nearly always on the move and rarely out of frame. Along the way, he is out to solve a killing, a suicide and some odd family business while competing international entanglements rooted in Tesla's genius. Throughout the protagonist's journey, The American Side offers up an array of unexpected characters via cameo (and more substantive) appearances by the likes of Robert Vaughn, Janeane Garofalo, Robert Foster, Harris Yulin, Grant Shaud and Matthew Broderick. If a few of those names don't sound familiar, their faces will be.
In Paczynski, Stuhr and Ricker have created a disheveled private detective who Buffalo cops claim "couldn't find the hole in a donut." Nevertheless, Paczynski fancies himself the Mike Hammer type. The film has plenty of action, some (but not much) violence and enough well-shot footage of the popular Falls area – Maid of the Mist and all – to entice a border visit.
Fun fact: If true, per the film, no one has survived a trip of any kind over the American side of the falls.
The dialogue matches up closely to the type you might find in some popular detective novels. Intentional or not, Paczynski's actions speaks volumes. If the plot twists in The American Side fail to hold your attention, try counting the number of times Paczynski changes his ugly neckties  during the course of his adventure. HINT: way more than his shirt changes.  
© Brigid K. Presecky FF2 Media (5/07/16)
Middle Photo: Greg Stuhr as "Charlie Paczynski" and Alicja Bachleda as "Nikki Meeker"
Bottom Photo: Alicja Bachleda as "Nikki Meekr" with Matthew Broderick as "Borden Chase" and Greg Stuhr as "Charlie Paczynski"
Photo Credits: Center Street Productions, One Horse Shy Productions
Q: Does The American Side pass the Bechdel-Wallace Test?
No.