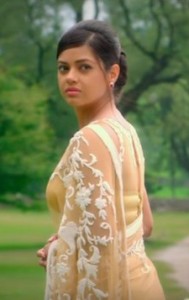 Giddy comedy/horror mash-up from India has all the familiar Bollywood elements–gorgeous people dancing around sumptuous sets–so expect it to be what it is… and enjoy. (JLH: 3.5/5)
Review by FF2 Managing Editor Jan Lisa Huttner 
"Princess Shivangi" (Meera Chopra) arrives at her family home, runs up the stairs, and throws herself into the arms of her astonished mother. Her father is alarmed. Her brothers are enraged. Surely Shivangi must know that now that she is married to "Veer Singh" (Vishal Karwal), her place is with her husband??? What will her in-laws think when they learn she has returned to India… alone?!?
As the opening credits roll, Shivangi pleads with them to pity her predicament: Life in London with Veer Singh was perfect. He was a model student (receiving his law degree with honors) and a model husband (showering her with affection). Picnics on green English lawns! Dances in ornate English ballrooms! Sex in their grand English mansion (but never any kissing of course), followed by dreams of the children to come!
But after announcing the name of director Dharmendra Suresh Desai on the screen, the music suddenly stops.
One day, out of the blue, Shivangi and Veer Singh receive an expensive gift from India. It is a beautiful amulet from an unknown source and while they sleep, dark vapors seep from the center of the amulet and radiate down hallways and up staircases. Sensing danger, Veer Singh rises from their bed and slowly walks though ominous, dawn-lit rooms. Suddenly he sees a crow perched on a tree just outside the room with the amulet. The crow begins to craw and Veer Singh doubles over in pain.
Shivangi rushes Veer Singh to a hospital where white-coated doctors babble in English about tetanus, but Shivangi knows better. This is Black Magic… she knows the answer must lie in India… And now we are all caught up!
Writer Sukhmani Sadana (working from a story by Vikram Bhatt and assisted with dialogue from Girish Dhamija) has produced a screenplay that does everything required to keep things moving from start to finish. Her heroine is beautiful and brave, passionate and virtuous, and having been run through her paces for two hours, Shivangi is fully deserving of her happy ending. 
But none of this would be half as much fun without the work of master choreographer Harish Shetty (assisted by a newbee named Pratap), and a visual design team lead by art director/production designer Jayant Deshmukh and costume designer Falguni Thakore.
I went into my screening cold, so I had no idea until later that 1920: London is actually the third in a series that began with Vikram Bhatt's original 1920 (from 2008), which he followed with 1920: The Evil Returns (in 2012). So I was a bit mystified by the invocation of the year "1920" when some of the cars and clothing suggest a more current date. But even as I watched, I knew not to be worried by anything overly logical. 1920: London is fun for fun's sake, loosely tied to an already successful franchise. As far as I can tell, the director, the screenwriter, most of the crew, and all of the cast members are new.
One negative: If you are into special effects, then stay home. Although I am not the best source on this subject, even I could tell that Dharmendra Suresh Desai's idea of demonic possession had not advanced much beyond The Exorcist. What happened to poor Regan scared the %$#@ out of me way back in 1974, but at this point, watching Veer Singh undergo the very same torments just looks silly. And needless to say, Veer Singh–forced to spend most of the film covered in goop–is not the actual hero of 1920: London.
The male lead is Sharman Joshi (an award-winning comedian), who stars as "Jai Singh Gujjar." Jai is the commoner who dared to love a princess. Remember Shivangi's awful brothers? For this transgression, they had Jai sent to prison for five years, and that's where he learned the secrets of the dark side.
This part of the story is told midway through in an extended flashback–more singing! more dancing!–when Shivangi pleads with Jai to return to London with her to save her husband. Then Jai summons the crows in an obvious homage to The Birds (my all-time favorite Hitchcock film), and the moment filled me with an adrenaline rush of pure pleasure that propelled me full speed ahead to the grand finale.
© Jan Lisa Huttner FF2 Media (5/13/16)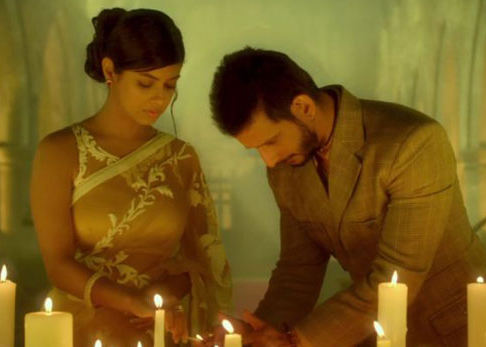 Top Photo: Meera Chopra as luminous "Princess Shivangi."
Middle Photo: As virtuous as she is beautiful, Shivangi bravely faces danger in order to save her husband.
Bottom Photo: Shivangi convinces Jai (Sharman Joshi) to use this powers on her behalf. They pray for success in India and then head to London.
Photo Credits: Reliance Entertainment
Q: Does 1920 London pass the Bechdel-Wallace Test?
Not really.
There is one brief scene in which Shivangi's London companion "Tantrik" (Gajendra Chauhan) offers a half-baked story about Veer Singh's supposedly evil stepmother. But once Shivangi is in India, she never has any contact with anyone in Veer Singh's family, so Tantrik's explanation of events in London become a red herring which somehow escaped the eyes of the editor.
On the other hand, the opening moments seemed to promise mother/daughter scenes, but if they were ever filmed, they never made it to the screen.