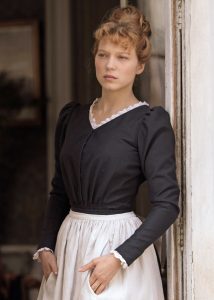 Director Benoît Jacquot's Diary of a Chambermaid (with a screenplay co-written by Hélène Zimmer) is a wonder. Its stupendous taste in colors and costume designs, its impish heroine, Célestine (delivered by the enthralling Léa Seydoux), and its hidden lust for violence against the patriarchy and the higher class strike the audience with precision and vigor. (PS: 4/5)
Review by FF2 Intern Peier Shen
The first meeting between a defiant and headstrong servant named "Célestine" (Léa Seydoux), and a modish Parisian overseer (Dominique Reymond) leaves the latter triumphant: it is decided that the chambermaid will be sent to a "good" post in Provence with the peculiar Lanlaires. Later on, Célestine's flashbacks will keep returning back to this employment agent who sends her to a series of eccentric masters.
Célestine's subsequent arrival at her new job is less than pleasant. "Madame Lanlaire" (Clotilde Mollet) – a stringent and paranoid mistress – immediately annoys Célestine with her unreasonable demands, while "Monsieur Lanlaire" (Hervé Pierre) finds that a five-minute greeting seems like an appropriate amount of time to make a move on the young maid. Throughout her tenure at the Chez Lanlaire, Célestine will also learn more about servants in the household, including "Marianne" (Mélodie Valemberg), the hapless cook with whom Célestine will form a sincere friendship, and "Joseph" (Vincent Lindon), a mysterious, sexualized, and anti-Semitic housekeeper.
Célestine's constant struggle with servitude not only fosters her somehow morbid obsession with Joseph (whom she suspects of being a rapist and killer), but also guides the camera to her haphazard past. These flashbacks include precarious episodes that reveal one mistress's dildo as well as short-lived love affair with "Monsieur George" (Vincent Lacoste), a beautiful young man who is dying of tuberculosis. 
Comfortably acted, Diary of a Chambermaid is delightful as a character study alone. None of the actors gives the performance of a career, yet all exude charisma. Though the movie's loose timeline and seemingly improbable changes in characters might lose its audience at certain points, all is forgiven when one considers that the film's point of view unapologetically aligns with that of Célestine.
Far from random, each flashback in fact strategically follows Célestine's experience in real time like a haunting shadow that cannot be forsaken. This tactic, not merely a narrative trick, is practical in the sense that the audience can better grasp the emotional development of an often silent and reserved Célestine.
The camera thereby follows the protagonist through claustrophobic corridors and parlors, asserting its eerie subjectivity. This intimate gesture also effectively traps the audience inside the character's perspective. However, the somewhat more traditional camerawork — namely a string of exaggerated zoom-ins — is jarring and uncalled for, and this preference for melodrama is sometimes cringeworthy.
Undeterred by previous attempts to adapt Octave Mirbeau's epistolary novel (made by the two notably distinguished directors Jean Renoir and Luis Buñuel), Benoît Jacquot displays his own artistic ambition. His version (co-written with Hélène Zimmer) provides the audience with moral and political observations on middle-class hypocrisy and lower-class anguish. The brutality acted upon the working class – pinpointed by the movie – is not contained within the costume drama. Scene-by-scene, many of Célestine's emotions will be familiar to contemporary wage earners.
This Jacquot/Zimmer take also introduces gender dynamics by stubbornly revolving around female characters: their vulnerable sexualities as well as their desperate pursuits of wealth, status, and most importantly, power. Jacquot and Zimmer's ambiguous treatment of Célestine's desire for class and gender domination, as well as the ironic conclusion, succeed in establishing them as subtle and skillful filmmakers.
Tastefully done, Diary of a Chambermaid can be either taken lightly for its mischievous dialogue and various episodes of intense ogling, or be mulled over for its interpretations of class and gender. Confident in his craft, the director happily hands these options to his spellbound audience.
© Peier Shen (06/13/16) FF2 Media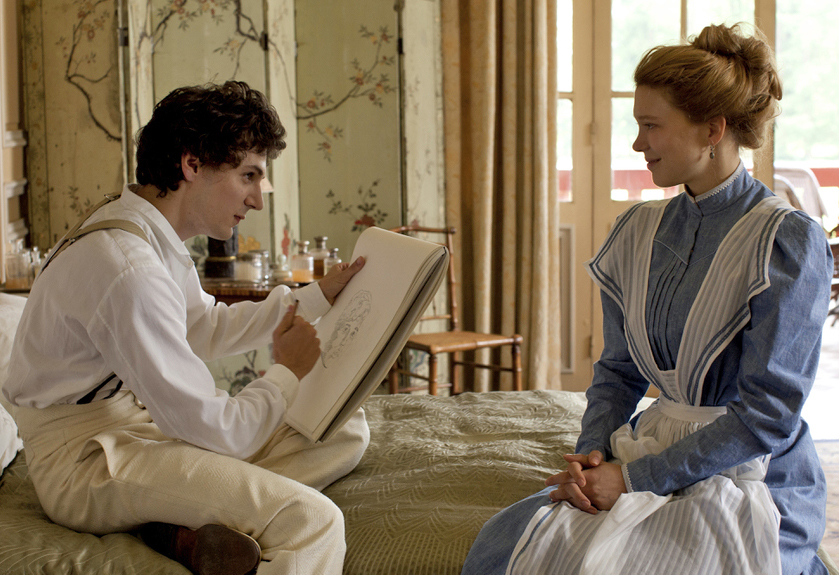 Top Photo: Léa Seydoux as "Célestine."
Middle Photo: Célestine with "Joseph" (Vincent Lindon).
Bottom Photo: Célestine with "Monsieur George" (Vincent Lacoste).
Photo Credits: Courtesy of Cohen Media Group.
Q: Does Diary of a Chambermaid pass the Bechdel-Wallace Test?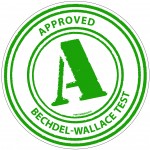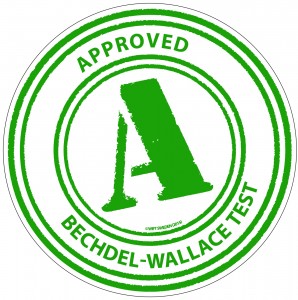 Yes!
Célestine discusses the violence of patriarchy and employment with many female servants. Her conversations with Marianne – often tear-jerking – exert humanity and intellectual independence for both characters.