Directed by Oscar-nominated documentarians Heidi Ewing and Rachel Grady, Norman Lear: Just Another Version of You is a chronicle of Norman Lear (one of the greatest television producers and writers that has ever lived). Now 94 years old, Lear changed the game of prime-time television in the 1970s.
Ewing and Grady break the fourth wall to masterfully depict different stages of Lear's life, the biggest stage illustrated by a nine-year-old version of Lear, played by actor Keaton Nigel Cooke. (KK: 4/5)
Review by FF2 Intern Kimi Kumar
It can be argued that the history of American television is carved into two categories: before Norman Lear and after Norman Lear. Lear brought prime time to what it is today by challenging sociopolitical assumptions about race, class, sex, and even religion, when no one else dared to brush a finger across the issues that were buried beneath American society.
Lear's ability to crack the surface most certainly stemmed from his relationship with his parents, specifically his racist and disdainful father. Passed down from one relative to the next after a family crisis, and ultimately settling with his hardworking grandparents, the necessity to be "a provider" came early to him; even though he was only a teenage at the time, Lear once held three jobs simultaneously at the amusement park on Brooklyn's Coney Island.
After military service in WWII, Lear took on small writing gigs with his cousin-in-law, then jumped into writing a show about a family led by a conservative, working class man at constant odds with his liberal son-in-law. Inspired by his relationship with his father, All in the Family not only became one of the greatest television shows in American history, but also changed the game by turning real social concerns into "entertainment."
More great hits followed in Lear's career such as The Jeffersons, Maude, and Good Times. However, Ewing and Grady remind us that leaving a legendary trail behind doesn't come without conflict. The documentary delves into Lear's creative struggles with actors Carroll O' Con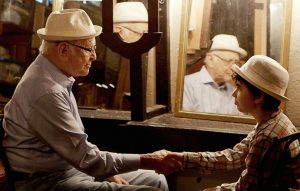 nor (who played the iconic "Archie Bunker" in All in the Family) and Esther Rolle (who played "Florida Evans" in Good Times). This sheds light on one of the most touching sequences of the film, when Lear weeps about O'Connor, talking about how much he remembers him and revealing how much he misses him every day of his life.
In his effort to grasp hold of social and political activism, Lear eventually took a leave from television and found the leftist group "People for the American Way." His patriotism is so strong that he now owns the original Declaration of Independence! Fully aware that ninety-nine percent of Americans would not have seen the document responsible for their country's freedom, Lear personally toured all fifty states to reveal the Declaration of Independence to the people–specifically young Americans–to raise their patriotism in their hearts and help them remember where they came from.
Norman Lear: Just Another Version of You craftily moves between the past and the present of a very transparent, psychological subject. Through the use of motifs such as deep backgrounds, reflective spotlights, and the nine-year old persona of Lear, what would normally be a series of mundane interviews are artfully done.
The audience is completely engulfed in the universe of Norman Lear, as we witness his most influential talk show interviews and behind the scene script readings, as they take place throughout the span of his career. There is a shift from a larger scale to a very intimate one as he reads aloud from his autobiography "Even This I Get To Experience" (published in 2014), and solemnly sobs. The documentary ends at the perfect time and could, perhaps, be cut even shorter, but there is something about hearing him talk or watching him think that makes you want to continue watching Norman Lear and yearning for more.
© Kimi Kumar FF2 Media (7/28/16)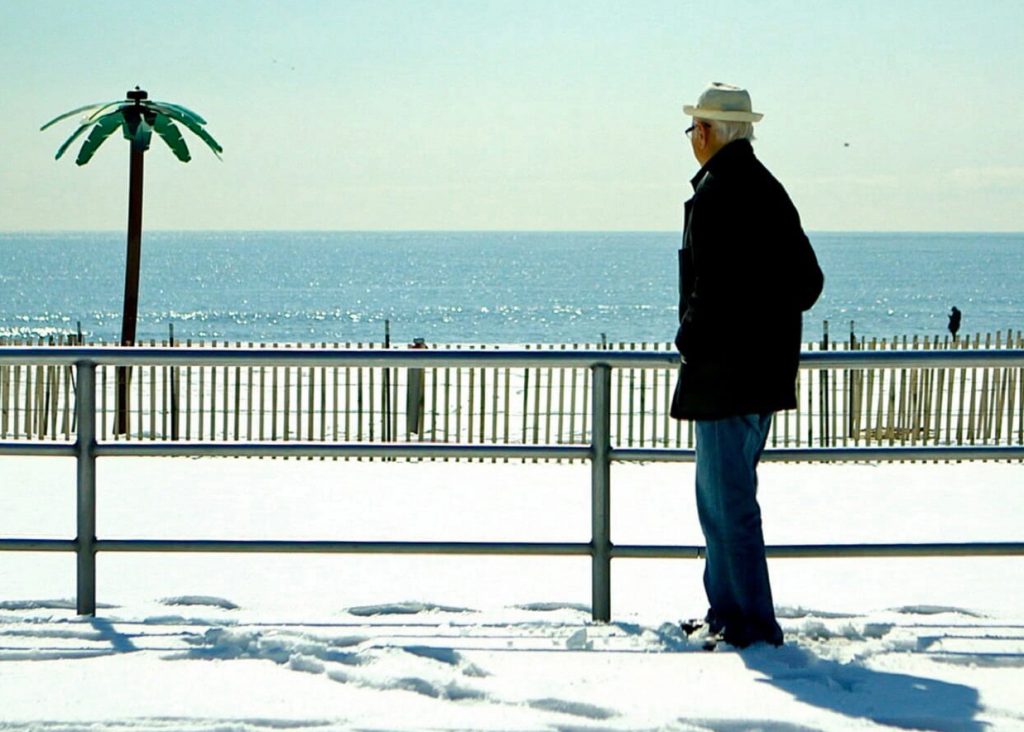 Top Photo: A portrait of Norman Lear.
Middle Photo: Lear shakes hands with the nine-year-old version of himself, played by actor Keaton Nigel.
Bottom Photo: Lear reminisces by the seaside.
Photo Credits: David Smoler
Q: Does Norman Lear: Just Another Version of You pass the Bechdel Test?
No, it does not.
Norman owns the spotlight and every scene goes through him.