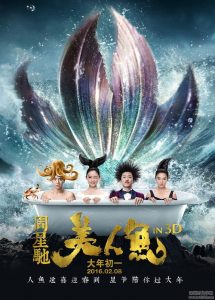 China's biggest box office winner tackles the subject of pollution and the ever-present and continuous threat it poses to our world. Director Stephen Chow and a team of screenwriters, including Miu-Kei Ho and Ivy Kong, use fantastical elements to drive home the importance of this issue, interweaving a romantic storyline throughout, between a powerful businessman content to pollute the earth and the innocent mermaid whose world is affected by his actions. (JEP: 3/5)
Review by Contributing Editor Jessica E. Perry
Powerful businessman "Liu Xuan" (Chao Deng) has just bought the pristine wildlife preserve Green Gulf, which he intends to use for his own gain. Xuan and his team have developed sonar that causes marine life great distress, effectively driving them from the area. But unbeknownst to Xuan, merpeople not only exist, but also inhabit the area. When scores of mermaids are either killed or injured by the sonar, the survivors retreat to an abandoned ship, plotting their revenge on Xuan.
Their leader, "Octopus" (Show Luo)—who is somehow an entirely different species from the merpeople, yet his half man half octopus makeup is never acknowledged or explained—sends the young, beautiful mermaid "Shan" (Yun Lin) to seduce Xuan into a state of trust so that the rest of the merpeople can kill him while his guard is down.
Quite predictably, Shan falls for Xuan, and he for her. The coupling of the unlikely pair threatens the merpeople's revenge plot. The stakes are further raised when Liu Xuan learns of the existence of mermaids. When he calls upon the police they have trouble grasping even the simplest concept of a mermaid. And when he next turns to his wealthy colleague, "Ruolan" (Yuqi Zhang), for help to disable the sonars, the answer he receives takes the plot on a darker turn.
Stephen Chow's The Mermaid made box office history in China, and its success brought it to the US for a limited release. While Chow's comedic style is firmly stamped upon the film, the zany slapstick sequences are not for everyone. And even though the plot is predictable, the characters and mysterious world filled with mythical mermaids, undoubtedly garnered the film much of its success.
What sadly cannot be praised…the special affects. The effects are sometimes so unbelievable in their execution that audiences are immediately taken out of the film, each time an abrupt jolt out of the fantasy world that Chow has masterfully created for us.
© Jessica E. Perry FF2 Media (7/13/16)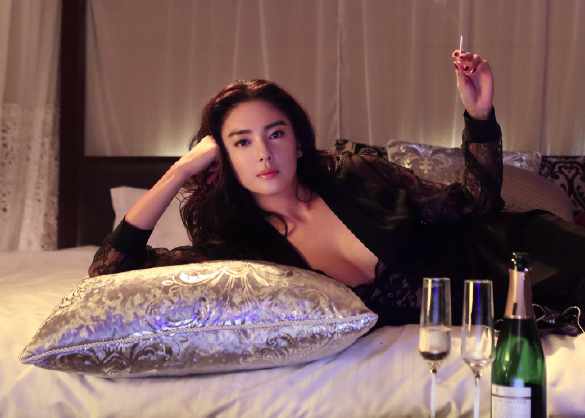 Top Photo: The Mermaid poster.
Middle Photo: The innocent mermaid "Shan" (Yun Lin), sent to win the trust of her species' killer.
Bottom Photo: "Ruolan" (Yuqi Zhang) attempts to seduce"Liu Xuan" (Chao Deng).
Photo Credits: Sony Pictures Releasing
Q: Does The Mermaid pass the Bechdel-Wallace Test?
 No.
Photo Credits