If you are looking for something that transcends the life of an artist, something that reveals the vulnerabilities of the quintessential photographer/filmmaker, Laura Israel's Don't Blink – Robert Frank is not that film. However, if those are what you seek, Robert Frank is not the guy to look into either. Resembling some of Mr. Frank's own essay films, Ms. Israel's work very much captures and even embodies the artist. Rigorous. Audacious. And of course, challenging. (PS: 3.5/5)
Review by FF2 Intern Peier Shen
Edited with zeal, Don't Blink – Robert Frank presents a polished resume with flair, introducing the audience to Mr. Frank's life work. It achieves to be informative, shedding light on some milestone moments of Mr. Frank's career. Some are better known such as the publication of The Americans and the artist's close association with the Beat Generation, especially prominent literary figures such as Allen Ginsberg and Jack Kerouac.
However, what comes as surprising (due to the immense popularity of Mr. Frank's work now) is that the initial response to The Americans, which includes an introduction by Mr. Kerouac, was largely negative due to its daring examination of poverty, racism, and sexism in a patriotic society that was ready to embrace its post-war optimism. Well, as what history has shown us, those criticisms did not last; the public connected with Mr. Frank's photos so quickly that the copies of The Americans were sold out at one point during Ms. Israel's filming process.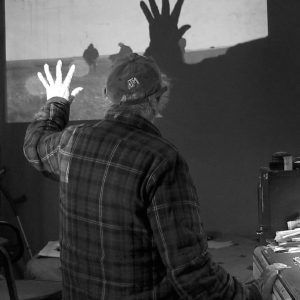 And then there are some less accessible works including Mr. Frank's eccentric documentaries, including one that was commissioned by the Rolling Stones. The rare footages of Me and My Brother and Cocksucker Blues are still strange and difficult to grasp. Mr. Frank's photography also has evolved into a more rebellious and abstract period as the artist started to etch words on the negatives.
Ms. Israel's film has its own bursts of creative energy. The art director/editor (Alex Bingham) has worked magic with Mr. Frank's collection of photographs. They move rhythmically with vigor. And that gesture has established the moving images an art form of its own right. The soundtrack, an impressive collection of popular music and recognizable tunes by artists such as The Rolling Stones, Bob Dylan, Lou Reed, and Charlie Mingus, has created an exciting accompaniment to the narrative arch.
After six years of filming (following Mr. Frank from New York to Mabou) is at best personal but not intimate. There's hardly any mentioning of the life outside of Mr. Frank being the photographer/ filmmaker. The cutting to Mr. Frank's old interview only confirms the unreachable status of a demanding artist. Personal tragedies passed by (including the passing of his children) and were noted in the film with a controlled outlook. Indeed, through Ms. Israel's lens, Robert Frank is seen as indestructible, pioneering, and determined of an artist as ever. But the regrettable news is that this is how we see him anyway – a genius.
As we get closer to Mr. Frank's works, we only realize the barrier between us and the genius. He works relentlessly, fitting the image of a hero. If you would like to relate to him and his struggle, Don't Blink – Robert Frank is reluctant to do that. Indeed, the film is made with absolute admiration. But it is still a privilege to see the artist at work, with his eyes wide-open, ready to capture what we can't see or simply refuse to acknowledge.
© Peier Shen FF2 Media (7/27/16)
Top Photo: Robert Frank
Middle Photo: Robert Frank
Bottom Photo: Robert Frank
Photo Credits: Lisa Rinzler/ Grasshopper Film
Q: Does Don't Blink-Robert Frank pass the Bechdel-Wallace Test? 
No, but…
The focus on Robert Frank has made this movie impossible to deliver heartfelt moment for women. However, Ms. Israel does give importance to the artist's wife, Mary Frank, who is looked upon with respect. An interesting character with strong personalities and brilliant artist of her own right, Mary Frank is fascinating to listen to.