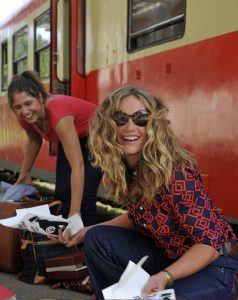 Catherine Corsini's wonderful new film Summertime opens on a farm in rural Limousin (France) in 1971. Soon enough, though, the main character–Delphine–moves to Paris, where she falls in love with Carole (a woman who is older, better educated, and much more sophisticated).
Carole is in a long-term heterosexual relationship, but as a committed feminist, she also feels compelled to respect Delphine's sexual preference. And so it begins an ardent and poignant love story.
Corsini places her lovers in a fully realized time of great political ferment. And since I have my own personal memories of those days, seeing familiar issues played out in such an unfamiliar setting was an added plus. (JLH: 4/5)
BONUS! Click HERE to read Lesley Coffin's exclusive Q&A with filmmaker Catherine Corsini!
Review by FF2 Editor-in-Chief Jan Lisa Huttner
Summertime, written and directed by Catherine Corsini, opens on a farm in Limousin, a province in central France which, cinematically speaking, is "nowhere's ville." The landscape is gorgeous, with huge, expansive, rural vistas (the French version of America's "Big Sky Country"), but it's definitely very far away from the France we usually go to in French films (the France most people around the world think of as "Gay Paree").
"Delphine Benchiessa" (Izïa Higelin) lives on the farm with her father "Maurice" (Jean-Henri Compère) and her mother "Monique" (Noémie Lvovsky). Delphine is an only child. The farm has been in the family for generations. And even though she is a sturdy young woman with a strong work ethic, what Maurice and Monique are clearly hoping for is a son-in-law who will marry their daughter, inherit their farm, and sire their grandchildren.
Indeed there is a young man who wants all of this too. His name is "Antoine" (Kévin Azaïs), and Delphine clearly has feelings for him, but insofar as Delphine loves Antoine, she loves him like a brother. Heartbroken when her secret partner (who is a woman) tells Delphine that she has decided to marry another local man, Delphine flees.
Arriving in Paris circa 1971, Delphine–who is so used to breathing fresh air–finds herself physically constrained by a boring office job. Luckily, she is soon liberated by a chance encounter with a group of feminist activists. These "troublemakers," happily harassing uptight looking male pedestrians, are glad to have Delphine throw some actual physical muscle into their game. They invite her to join them at their next planning meeting, and they greet her with warmth when she shyly appears at their door.
Delphine quickly comes under the wing of a Parisienne named "Carole" (Cécile De France) who is sophisticated, well established, and very militant. Carole certainly values Delphine, but as savvy as she is, she does not realize that Delphine is falling in love with her. And so, when Delphine kisses her, Carole is shocked but receptive. 
At first, Carole responds to Delphine as a matter of principle, then she allows herself to be curious. It takes awhile for Carole to finally recognize and act on her own desire. And it takes even more time before Carole reveals any of this to her longtime partner "Manuel" (Benjamin Bellecour).
At the start of Act Two, a family emergency calls Delphine back to the farm…
Summertime is a terrific film that transports the audience to one time (1971) and two places (urban Paris and rural Limousin). All of the characters are three dimensional, none of their predicaments are simplified, and the denouement is almost unbearably poignant.
The two actresses, Cécile De France (a well-known lead actress with a great many screen credits to her name) and Izïa Higelin (a newbee who won a couple of "Most Promising Young Actress" awards in 2013 for a film named Bad Girl which I have yet to see) are both superlative. Their love story is intense, passionate, and revelatory.
© Jan Lisa Huttner (7/21/16) FF2 Media
BONUS: Click HERE to read Lesley Coffin's exclusive Q&A with filmmaker Catherine Corsini!
"Writer-director Catherine Corsini has gradually emerged not only as one of France's top female directors, but one of their most respected auteurs of her generation… Her new film, Summertime, feels like a big leap forward for Corsini…"
< Click HERE to read Lesley's full post >
Top Photo (from left): Izïa Higelin (as Delphine) and Cécile De France (Carole) at the train station.
Middle Photo: Carole (Cécile De France) leading a smoke-filled meeting. (D'Uh! France! 1971!)
Bottom Photo (from left): Carole (Cécile De France) and Delphine (Izïa Higelin) on the Benchiessa family farm in Limousin.
Q: Does Summertime (2015) pass the Bechdel-Wallace Test?
Absolutely!
Beyond the erotically-charged lesbian relationship, there is a great deal of political talk in Summertime. Women learning to define themselves as "feminists" are too busy fighting "men" (meaning "the Patriarchy") to have much interest in "talking about a man" 😉
Q2: Where is Limousin?
As this map proves, Limousin isn't all that far from Paris "as the crow flies," but it is light years from Paris now and it was even further from Paris in 1971!