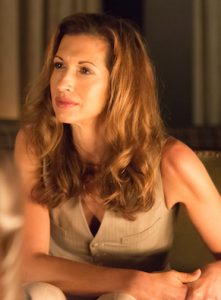 Director Meera Menon's slow moving financial drama Equity, brings us back to the familiar world of high-powered suits dominating Wall Street, but this time around, the suits in charge are the powerful women of investment banking. With commanding performances from Anna Gunn, Sarah Megan Thomas, and Alysia Reiner, Equity takes charge, delving into the perils of financial scandal and corruption. (JEP: 4/5)
Review by Associate Editor Jessica E. Perry
Directed by Meera Menon, written by Amy Fox with story by credits from Sarah Megan Thomas and Alysia Reiner, and starring a powerful female cast, Equity is a compelling look inside what's typically regarded as a man's world, the world of Wall Street.
This time around, the powerful players are women. However, other than the fact that they are women, gender has no bearing on the plot or on how their colleagues see them. These women are smart, respected, even a little feared. And that's what makes this financial thriller so refreshing.
Anna Gun stars as "Naomi Bishop," a powerful senior banker looking to take the latest and greatest of Silicon Valley startups public. Still haunted by her last IPO, which was her first fail among a string of successes, Bishop will do anything to get this win and ensure her place atop the financial world.
Bishop's second, "Erin Manning" (Sarah Megan Thomas) is a younger banker who has been long awaiting her promotion. But each year Bishop insists that it's not her time, or that it's not a good time, and once again Manning's climb up the financial l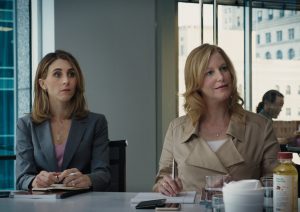 adder is stunted. When Manning learns she is pregnant, she conceals her pregnancy from her colleagues, struggling with the question: can women have it all? But other than her internal war, this news does nothing to hinder her performance in the workplace. In fact, Manning takes more initiative, and becomes more cut throat in her business prowess than ever before.
While Bishop and Manning work together to take their latest Silicon Valley startup public, "Samantha" (Alysia Reiner), an old college friend of Naomi's and now a state attorney, makes it her mission to uncover the underhanded deals, securities fraud, and white collar crime that inhabits the financial world.
Screenwriter Amy Fox must be credited with delivering a film by women, about women, that has nothing to do with the fact that its main characters are women. And director Meera Menon takes her time with Fox's script, slowly pacing her financial drama, to deliver audiences the ultimate payoff.
Samantha has a family, Erin is starting one, and Naomi is intentionally unmarried and unattached—except her casual relationship with fellow Wall Street titan "Michael Connor" (James Purefoy). Yet each woman is a dominating force in the workplace, and their family/maternal lives, or lack thereof, do not have any bearing on their character or ability to be just as powerful as the men that surround them. It is a world where woman can talk about success, power, money, and their desire to have it all. And that in and of itself makes Equity refreshing, honest, and well worth the watch.
© Jessica E. Perry FF2 Media (8/3/16)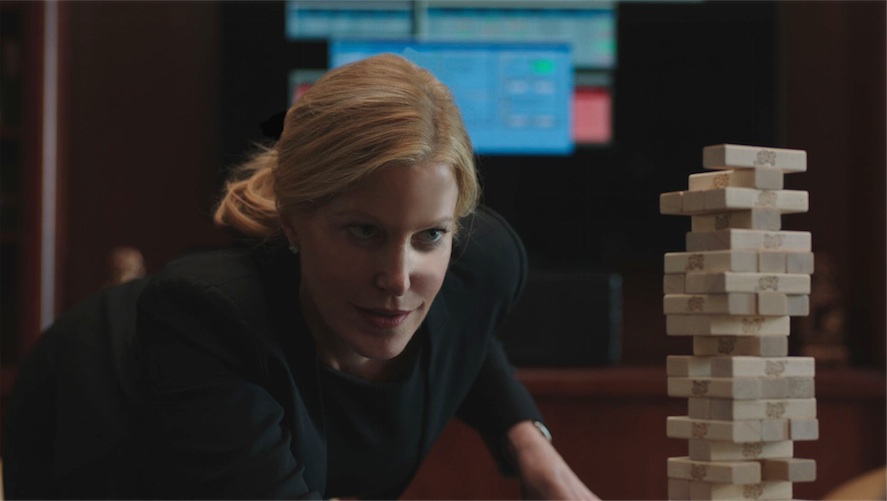 Top Photo: "Samantha" (Alysia Reiner) goes up against the big dogs of Wall Street to uncover the truth.
Middle Photo: "Naomi Bishop" (Anna Gunn) and "Erin Manning" (Sarah Megan Thomas) lead a meeting amongst the CEO and heads of the latest startup they're taking public.
Bottom Photo: In a symbolic game of Jenga, "Naomi Bishop" (Anna Gunn) is determined to come out on top.
Photo Credits: Perry Bindelglass
Q: Does Equity pass the Bechdel-Wallace Test?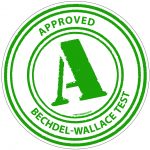 Of course!
In this case, most conversations pass the test, and you'd be hard pressed to find many that don't.