Under the leadership of child-fearing, type A, borderline alcoholic, "Annie" (Melanie Lynskey), four couples return to a sprawling childhood summer home for a weekend away. But the weekend getaway is actually an artful guise for a marital intervention the group has planned for one of the couples. As tensions run high, friendships are tested and relationships are turned on their heads. Written and directed by actress and first time director, Clea DuVall, The Intervention delivers laugh out loud moments, and attempts an honest look into many stages of both functional and dysfunctional relationships. (JEP: 4/5)
Review by Associate Editor Jessica E. Perry
Four couples meet for a weekend away at a beautiful family lake house just outside of Savannah, Georgia. However, the retreat's true purpose is a planned marital intervention for one of the couples—"Ruby" (Cobie Smulders) and "Peter" (Vincent Piazza).
The charge is lead by "Annie" (Melanie Lynskey), who always has a drink in her hand—possible grounds for an intervention of her own—and an opinion about how others should live their lives at the forefront of her mind. But her fiancé "Matt" (Jason Ritter) stands steadfast by her side, even when Annie has postponed their wedding four times, and her drunken behavior is a growing concern for the other parties at the lake house.
"Jack" (Ben Schwartz) brings along his uninvited, and much younger, new girlfriend "Lola" (Alia Shawkat). Lola's presence is not only a concern of the couples on Ben's behalf, but it also throws a wrench in "Jessie" (Clea DuVall) and "Sarah's" (N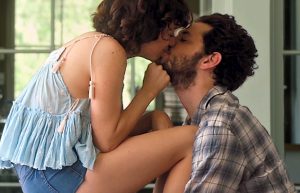 atasha Lyonne) relationship. When Ruby offhandedly mentions that Lola is the epitome of Jessie's type, aka young and fun, Sarah grows increasingly paranoid about Jessie's possible feelings for Lola.
The four couples each have their own relationship dynamic, are each in different stages of their relationships—newly coupled, dating for years, engaged, and married—and all judge one another on their choices. Their concern comes from a place of love, but subconsciously, their judgement of one another's relationships reflects upon their own, causing tensions to run high.
With a strong ensemble cast, whose credits you will know mostly from television, The Intervention succeeds in building multiple relationships all at different stages. Where it fails, is defining the broader interpersonal relationship that the friends all share. Are the eight 30-somethings all just longtime friends, or is there a familial relation between some of them. We get a few lines, here or there, hinting at a more intimate relationship between certain characters, but audiences are forced to put the pieces together for a plot point that could be easily defined.
However, easily compared to, and deemed by some as the modern-day The Big Chill for 30-somethings, writer/director Clea DuVall delivers an promising first feature in The Intervention. Agreeable to a wide range of audiences for its honest look inside the most familiar human interactions: friendship, relationships, and love in all forms.
©Jessica E. Perry FF2 Media (8/27/16)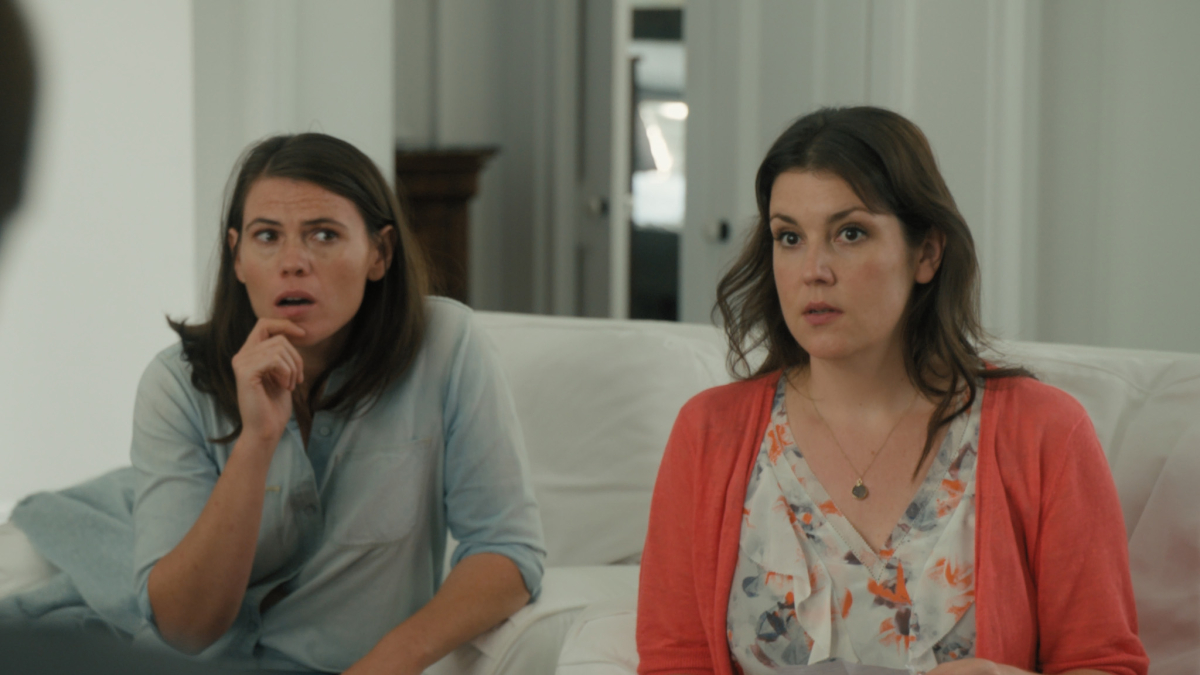 Top Photo: The Intervention poster outlining the four couples.
Middle Photo: "Jack" (Ben Schwartz) and "Lola" (Alia Shawkat) sit comfortably in the puppy dog love/honeymoon phase of their relationship.
Bottom Photo: "Jessie" (Clea DuVall) and "Annie" (Melanie Lynskey) prepare to confront their friends during the intervention.
Photo Credits: Samuel Goldwyn Films
Q: Does The Intervention pass the Bechdel-Wallace Test?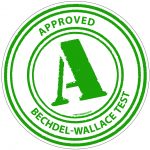 Yes!
The women discuss plans for "Annie's" (Melanie Lynskey) impending nuptials. Additionally, "Sarah" (Natasha Lyonne) and longtime girlfriend "Jessie" (Clea DuVall) discuss the ups and downs of their own relationship.