From screenwriter Jane Goldman and director Tim Burton comes Miss Peregrine's Home for Peculiar Children, a sophisticated film with inspiring symbolism and a hopeful message for anyone who has ever felt like they don't quite belong. Based on the 2011 novel by Ransom Riggs, the villains who threaten Miss Peregrine and the special children in her care are the only weak parts of an otherwise meaningful story. (GEP: 4/5)
Review by Social Media Manager Georgiana E. Presecky
Miss Peregrine opens with "Jake," (Asa Butterfield) a teenager living in Florida and stocking adult diapers at a Rite-Aid. His narration says that if "making friends and having fun" is the purpose of a young person's life, he's failing miserably. This opening scene is the perfect setup for the next 127 minutes – a story designed for atypical people who know that there's a lot more to life than making friends and having fun.
After witnessing the death of his beloved grandpa, "Abe" (Terrence Stamp, whose voice is inextricably linked in my mind to Jor–El in The WB's Smallville), Jake feels urged to visit the children's home where his grandfather grew up. What ensues is a vintage Burton archetype – dull, disbelieving adults pitying the craziness of open-minded children. Allison Janney and Chris O'Dowd play these nay-saying grownups expertly and entertainingly.
Outcast Jake feels like no one understands him – he has no true friends to speak of, and his parents and therapist think he's lost his mind. But he travels to Wales anyway, in search of the belonging he lost with the passing of the lifelong companion he had in his grandpa.
He finds solace in an unexpected place – the year 1943, which he discovers through a magical time loop that leads him back to his grandfather's storied children's home. The place has been forgotten by time in the gray present, but when Jake travels back and meets the figures that Abe has been telling him about his whole life, both the plot and the aesthetic become brighter and more hopeful.
His newfound friends can create fire with their hands, soar to amazing heights, make themselves invisible and lift items of immense weight. None of them have aged a day since they knew Abe – thanks to caretaker "Miss Peregrine" (whose eccentricities are emphatically overplayed by Eva Green), they live in a 24-hour loop that has repeated for decades. Here, they remain safe from both the mystical monsters that are out to harm them and history's real monsters, flying in Nazi planes overhead.
The overly odd parts of the plot can be blamed on the novel, and they come with the Burton territory – the word "peculiar" is right there in the title, after all. From a seemingly-deranged puppeteer who lives in the home to a dinner scene in which everyone's special powers chaotically clash at once, Butterfield perfectly reflects the audience's discomfort and surprise with one confused glance.
Under-developed villain "Mr. Barron" (Samuel L. Jackson) is out for immortality, which he can apparently only gain through eating the eyeballs of peculiars. (It's safe to say that watching Jackson slurp optic nerves like spaghetti made me set the popcorn aside. "What's in your wallet?" Eyeballs, apparently.)
But just as Harry Potter wasn't really about being a wizard and The Hunger Games stood for more than shooting arrows in a deathly arena, this creepy and cool journey to the past represents more than using special powers to fight monsters. Learning to be brave so you don't have to hide; finding family in unlikely places; feeling like working in a drug store is all you'll ever amount to; worrying that no one will ever see what makes you special and finding people who do; working together and embracing your weirdness – all of these are underlying themes that shouldn't get lost in the convoluted plot.
There's another deeper lesson in Miss Peregrine's Home for Peculiar Children that makes a few CGI eyeballs wriggling on a dinner plate worth sitting through. Sometimes as much as you want to stay in a moment forever, you can't. But you can carry the feeling and essence of a past time in your life with you wherever you go. If you do that, if you learn from where you've been, if you take enough mental pictures and recognize the value of the present, maybe a moment can go on forever…even without Miss Peregrine's peculiar pocket watch.
© Georgiana E. Presecky FF2 Media (10/1/16)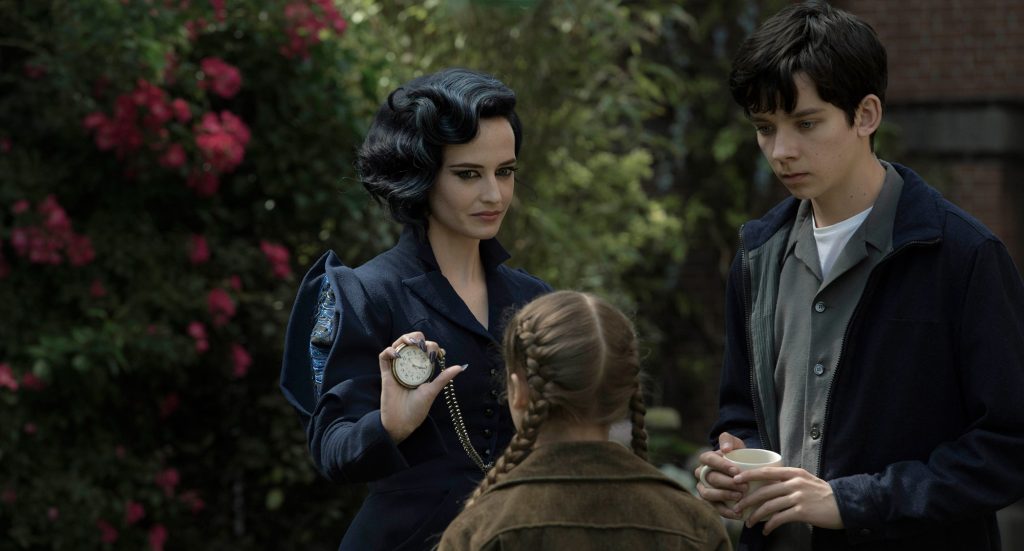 Middle Photo: Miss Peregrine channels her inner Betty Draper to protect the children in her home from the monsters who are after their unique abilities.
Bottom Photo: Miss Peregrine introduces Jake to the other children with special powers and explains how they've been able to repeat September 3, 1943 for decades.
Photo Credits: 20th Century Fox
Q:  Does Miss Peregrine's Home for Peculiar Children pass the Bechdel-Wallace test?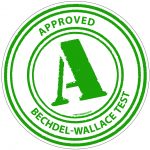 Yes. Not only are five of the special children in the 1943 time-loop female, they all play an integral role in saving their companions from evil Mr. Barron.