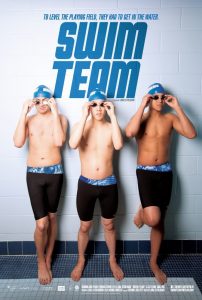 Lara Stolman's Swim Team is an inspirational and emotional look at the Jersey Hammerheads, a Special Olympics swim team made up of team members on the spectrum. (EML: 4/5)
Review by FF2 Associate Eliana M. Levenson
When Maria & her husband, Michael, learned that their son, Mikey, was autistic, the doctors told them that he would never speak, never be able to get dressed on his own, never be able to take care of himself. Refusing to accept that their child would be given no chances, the couple decided to start a swim team, to give their son and those like him, the opportunity to train, compete, and grow. Through the swim team, Mikey and his teammates are provided with the rare opportunity for "normalcy," and a chance to discover their ability to achieve. From the first practice, to their many achievements and medals competing in the Special Olympics, the documentary follows the incredible journey of Mikey and two other teammates, and the profound effect competitive swimming has on their lives.
Mikey is soft-spoken, with a love of animals, and seems to be keenly aware of the fact that he isn't like other kids his age. While his parents do their very best to provide him with the tools necessary to succeed, they are working against a system that often doesn't have the resources or personnel necessary to provide their son with the one-on-one attention he needs. In a tearful confessional, Michael reveals a moment when his son asked why he was different. The fact that his son knows he isn't like everyone else is a painful realization, but Michael and Maria continue to work hard to provide him with goals he can achieve and accomplishments he can be proud of.
Kelvin, who has a dual diagnosis of Autism and Tourette's, struggles with the symptoms of both illnesses, which make him somewhat of an outlier even on the swim team as many teammates are unsure how to handle his tics. For his parents, the swim team provides reprieve from his tics and an outlet for his aggression. However, despite the benefits of the swim team, Kelvin and his parents struggle with the reality of Kelvin's behavior keeping him from ever feeling truly comfortable engaging socially.
Unlike Mikey, Robbie doesn't consider himself to be different from those around him. Despite his academic skills being far below those of his peers, his mother describes Robbie as being unaware that he thinks and process differently than those around him. While some of the Hammerheads use the swim team as a way of normalizing themselves, Robbie sees it like any other athletic team, and doesn't see any difference between the Hammerheads and his high school swim team.
But the documentary isn't just about swimming, it's about how these people who are often marginalized by their disabilities, are given the opportunity to achieve. In examining the very different trajectories of the three boys, the film offers insight into the diversity of experience those on the spectrum face. For example, the documentary shows Kelvin working at a local theater as part of a state funded jobs program. In another moment, Robbie and his mother attempt to discuss the latest health class lecture, which dealt with sex and STDs, something that Robbie clearly doesn't really understand. And then there's Mikey and his dad, practicing cooking, so that Mikey can feed himself if necessary.
Of course, the film isn't all about the triumphs, it also discusses the struggles that the members and parents face as a result of the Autism diagnosis. Throughout the documentary are moments where the parents attempt to impart life skills on their children, hoping to give them some semblance of freedom in their adult life. However, in a heartbreaking scene, Maria and Michael deal with the reality of taking guardianship over their son as he approaches his 18th birthday, to ensure they are able to guide his decision making. As they are asked about Mikey's limitations, Maria breaks down in tears, a harsh reminder that despite all of the accomplishments Mikey has had, there are still limitations placed on him as a result of his diagnosis with Autism.
While Stolman's approach within the documentary is fairly standard, with classic talking head interviews and simple shots of practices, meets, and daily life, there is something powerful in her representation. In its simplicity, Stolman's storytelling adds honesty to the journey of the featured players in the documentary. The film feels, in many ways, like your classic underdog sports movie, athletes who everybody doubts doing something nobody believed they could. Except, for Stolman's subjects, that success isn't limited to their triumphs in the pool. That isn't to say that Stolman's presentation is unrealistic. She presents a balanced perspective on the hurdles that can be overcome and those that, sadly, cannot. Swim Team is a heartwarming, inspiring story of defying expectations beautifully partnered with the, at times, sobering reality for many of those with Autism.
© Eliana M. Levenson (7/10/17) FF2 Media
Top Photo: The poster for Lara Stolman's award winning documentary, Swim Team.
Middle Photo: Maria speaks to the Jersey Hammerheads relay team, featuring Kelvin and Mikey and Robbie.
Bottom Photo: Director Lara Stolman, on the carpet with the featured athletes, Kelvin, Mikey and Robbie.
Photo Credits: Argot Pictures
Q: Does Swim Team pass the Bechdel-Wallace Test?
Nope.
Sadly, with a team of predominantly male members, the documentary does not pass.