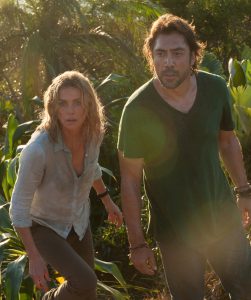 Charlize Theron and Javier Bardem star in a love story between an activist and a physician who struggle with relief efforts in West Africa.
The Oscar winners expectedly bring the best out of writer Erin Dignam's script (a story unanimously panned across the critical board). If viewers look beyond the criticism surrounding its famed director Sean Penn, however, The Last Face sheds light on the lives of those who actually deserve the attention. (BKP: 3/5)
Review by Managing Editor Brigid K. Presecky
International aid agency activist Wren (Theron) and relief doctor Miguel (Bardem) examine both their relationship and their relationship to the people around them as they experience the horrors and hopelessness of surrounding refugees.
They try to save the day, over and over again, with tearful eyes and outbursts of aggression. We learn more about their romantic history through happier, sunnier flashbacks that jump through unmarked time. Although unremarkable, the romance is elevated because of its portrayers, both adding depth and drama to their given dialogue. Theron, specifically, in a role burdened with a unique and unnecessary accent.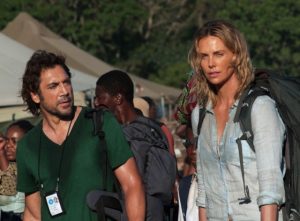 The cinematography overshadows any romance or action, though, capturing the refugee camp in Sierra Leone and the disastrous ruins in which these people live. Yet, it's shot with bright sunrises and sunsets, making the world feel warm and picturesque despite the horrendous ongoings of its citizens. The juxtaposition of light and darkness is an odd filmmaking choice, one that negatively impacts the tone of the film.
Beneath the "beautiful" scenery is an environment full of violence, disturbing imagery and blood-soaked villages. It's raw, it's heartbreaking and it's very much real. But combined with a lackluster romance and a dramatic storyline borderlining on offensive, you can understand the disconnect with general audiences.
The criticism received at Cannes Film Festival may or may not have impacted its low score on tomatometer (a ranking that should be taken lightly); but within two hours and 10 minutes of screening the drama, the percentage had plummeted to five percent fresh.
Had viewers been unaware it was directed by "celebrity" Sean Penn, fewer pitchforks would have been thrown, guaranteed. Although the film is far from perfect, the negative consensus is unfairly harsh. If bringing awareness to impoverished people is the only thing a film did right, I would say that's enough.
© Brigid K. Presecky (7/28/17) FF2 Media
Photos: Charlize Theron and Javier Bardem in The Last Face
Photos courtesy of Saban Films.
Q: Does The Last Face pass the Bechdel-Wallace test?
No.