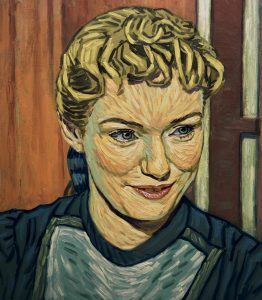 Directors Dorota Kobiela and Hugh Welchman explore the life, and mysterious death, of post-impressionist painter Vincent van Gogh by imagining the interactions between the people he touched in life. Loving Vincent is both a unique work of art in its pioneering, painterly animation and an homage to the late painter's singular, revolutionary style. (RMM: 4/5)
Review by FF2 Intern Roza M. Melkumyan
A year has passed since the suicide of post-impressionist painter, "Vincent van Gogh" (Robert Gulaczyk). The setting is France, 1891, and "Armand Roulin" (Douglas Booth), a young man with a penchant for drinking, has just been pulled away from a brawl in the local cafe. His father, "Postman Joseph Roulin" (Chris O'Dowd) scolds him for his vices, reminding him to deliver van Gogh's last letter to his beloved younger brother "Theo van Gogh" (Cezary Lukaszewicz). Having befriended van Gogh during the last years of his life, Joseph knows how much this letter would mean to Theo, who loved his brother deeply, and instructs Armand to take this task seriously.
Letter in hand, Armand takes a train to Paris where Theo is said to reside. However, upon arriving, Armand meets with noted paint supplier "Pere Tanguy" (John Sessions) who informs him that Theo has passed away. Pere explains that Theo was van Gogh's greatest, and at times only, supporter who financed his lifestyle of painting. Devastated by his brother's death, Theo died just months after Vincent, leaving behind a wife and young child.
Pere goes on to recount van Gogh's path to painting, which he didn't pursue until late into his twenties, and his time in Paris. He talks about the bouts of madness that colored the later years of van Gogh's life, and suggests that Armand give the letter instead to "Doctor Gachet" (Jerome Flynn), one of van Gogh's dearest friends. 
With both a newfound curiosity and respect for the late painter, he sets off for Auvers-sur-Oise determined to give Gatchet the letter. During his time there, Armand speaks to members of the community who knew van Gogh. In search of Gatchet, Armand meets his housekeeper, "Louise Chevalier" (Helen McRory), who has a less than positive opinion of the late painter and warns Armand to leave the subject alone. At the inn, he meets the innkeeper's daughter, "Adeline Ravoux" (Eleanor Tomlinson), who remembers van Gogh and his kind, loving nature fondly. Armand asks her about the day of his death, and she recounts the story: he shot himself with a gun in the field where he had been painting, and stumbled back to the inn where he later died. Hoping to get a better understanding of the late painter's death, and confused by these conflicting accounts of the painter, Armand speaks to various other townspeople, including "The Boatman" (Aidan Turner), Gatchet's daughter "Marguerite Gachet" (Saoirse Ronan), and finally Gatchet himself. Armand makes it his mission to better understand who van Gogh really was, and solve the mystery surrounding his supposed suicide.
First and foremost, directors Dorota Kobiela and Hugh Welchman must be applauded for the sheer time and effort that went into bringing this film to life. An intense labor of love, Loving Vincent was a ten-year project, with 125 painting animators completing 65,000 oil-painted frames to create a full-length film. The film incorporates 120 of the painter's works, including scenes of both nature and people. Almost every main or supporting character is painted in the likeness of one of van Gogh's works, including the protagonist Armand. The result is a mesmerizing work of living, breathing art. Paintings come to life with both the subtle energy of rustling grass and the swiftly circulating lights from the stars of Starry Night. Characters' faces bend and twist as if by magic, and scenes play out in paint before the audience's eyes. The world's first fully painted film, Loving Vincent is an incredible feat.
Though the plunge into the aesthetic of Vincent van Gogh is incredibly immersive, its spectacle at times overshadows its substance. Kobiela, Welchman, and writer Jacek Dehnel deliver a plot that lacks complexity and depth. With such lushly painted and animated visions before me, I found myself yearning for a script that reflected and enhanced the profundity found in the imagery. While the paintings supplied the emotion, from the tear-stricken Theo to the beaming Adeline, the writing seemed to take a backseat.
A stronger plot would've made this a more well-rounded film, but still I cannot stress its complete and utter beauty, innovation, and attention to detail. Loving Vincent is absolutely worth the watch, if only to be thrown into a world of paint come to life.
© Roza M. Melkumyan (9/24/17) FF2 Media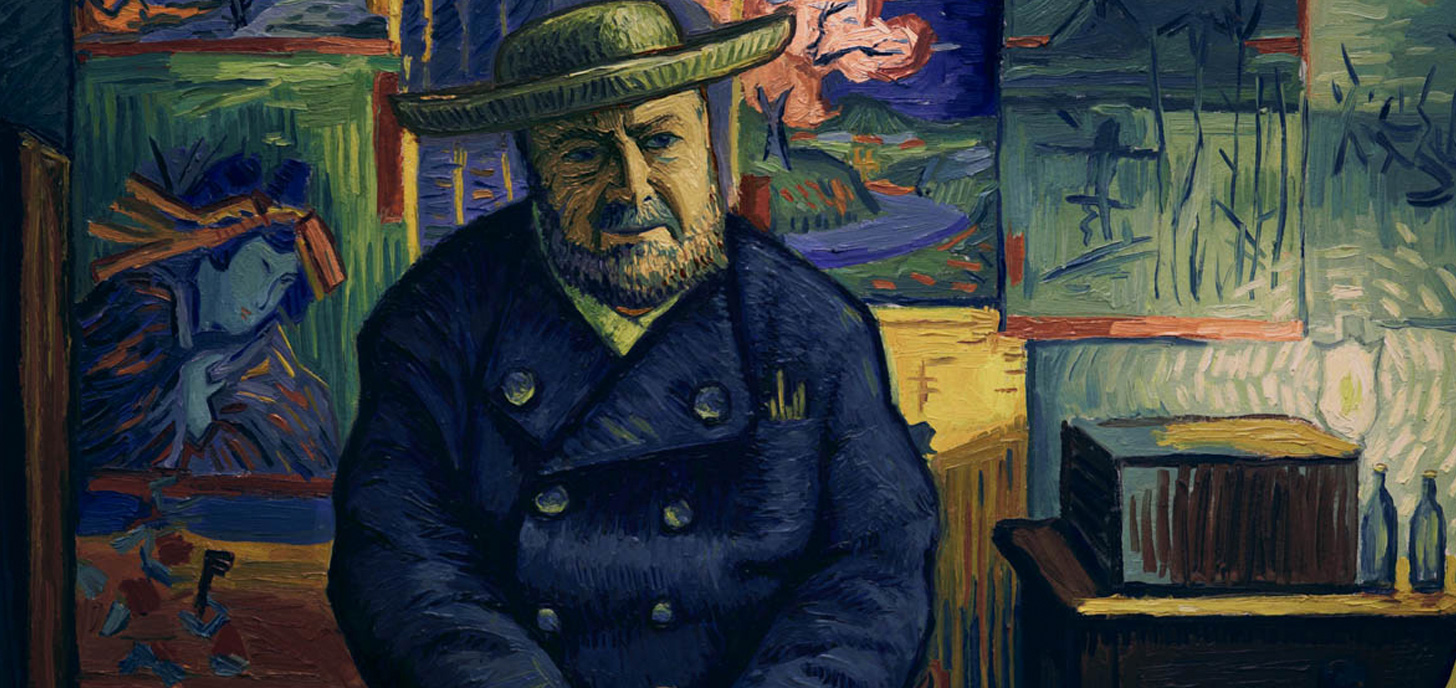 Top Photo: Adeline Ravoux remembers Vincent van Gogh.
Middle Photo: Armand Roulin sits somberly as his father speaks about van Gogh.
Bottom Photo: Pere Tanguy talks about van Gogh's time in Paris.
Photo Credits: Good Deed Entertainment
Q: Does Loving Vincent pass the Bechdel-Wallace Test? 
No.
There are no interactions between either two women or solely women to begin with, as the story follows Armand's interactions with others exclusively save for flashbacks. Furthermore, just about every conversation had centers around van Gogh, the subject of this film.