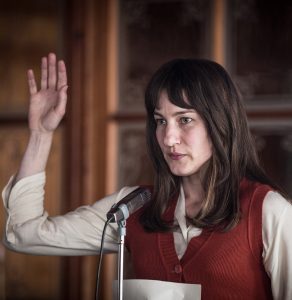 In a small, peaceful Swiss village, little has changed since the Women's Rights Movement made its mark on the world. Recognizing the unfair laws that she and other women are subjected to, a young housewife and mother hesitantly decides to advocate openly for women's right to vote. In her film The Divine Order (in German, Die göttliche Ordnung), writer and director Petra Volpe presents an account of women's real-life fight against injustice. (RMM: 4/5)
Read FF2 Media's interview with Petra Volpe HERE.
Review by FF2 Intern Roza M. Melkumyan
The film takes place in Switzerland, 1971, where the predominantly conservative populace of a small village has remained virtually untouched by recent women's rights protests. However, an impending vote by the men of the community on voting rights for women promises change. "Nora" (Marie Leuenberger) is a housewife who lives with her two young boys and husband "Hans" (Maximilian Simonischek). When she isn't maintaining the household, Nora spends time with her sister-in-law, "Theresa" (Rachel Braunschweig), who often worries about her rebellious teenage daughter "Hanna" (Ella Rumpf).
After Hanna runs away to Zurich with her boyfriend, she is sent to reform school and then prison. Theresa and Nora decide to visit Hanna—against the word of Theresa's husband "Werner" (Nicholas Ofczarek), who forbids it—but find her unreceptive to their condolences. Troubled by Hanna's plight, Nora begins to read books and pamphlets on women's rights. At a social gathering the next night, Nora politely refuses to donate to a cause against women's voting rights, even though everyone else feels compelled to donate.
"Vroni" (Sibylle Brunner) leaves the social with Nora and brings her to the Barren, the pub she once ran with her late husband. The new owner, an Italian woman named "Graziella" (Marta Zoffoli), supports Vroni in her claim that the pub's failure was her drunk husband's fault, and the two women convince the hesitant Nora to actively campaign for voting rights.
Theresa, ashamed at her failure to protect Hanna and unhappy in her marriage, agrees to join in the fight as well. While Hans is away from town on business, the ladies reserve a time and space for an informational meeting on the matter, and begin to advertise.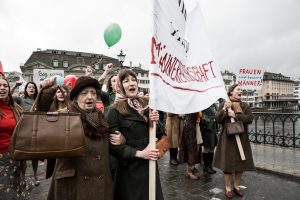 After participating in a women's rights demonstration in Zurich, Nora, Vroni, and Theresa attend a workshop where they are told to love their vaginas. Feeling empowered, they return to their village and make preparations for the fast-approaching informational session. The surprising turnout of both men and women at the event intimidates Nora, the key speaker. She faces taunts and jokes from the men in the room, who don't believe that women want the right to vote. Persisting, she asks for a poll on whether the people are in favor of the potential new law or not, and is shocked to see almost everyone, even the women, vote against it. Having just returned home, Hans is ashamed for his wife.
At the Barren that night, many of the village women have gathered to talk about the vote. It turns out that most want their voices heard, but feel pressured by society to keep quiet. One woman jokingly suggests that they go on strike, and Nora challenges them to do just that. The next day, the women of village leave their homes to stay at the Barren until the day of the vote, leaving their husbands to fend for themselves. Though the forces of oppression seem to constantly work against these women, they continue to fight. For they must face adversity if they wish to finally gain the right to be heard.
In her film, Petra Volpe recounts an important movement in history, reminding us that women's road to equality is both long and filled with obstacles. Furthermore, she reminds the audience that different countries have moved at different speeds in terms of the advancement of women in society. The audience sees the painfully unfair restrictions that women have had to endure—from the inability to vote in government to ridiculous marriage laws that require a wife to answer to her husband—and appreciates the strides women have made. There is an undercurrent of uneasiness, however, as we recognize that even today women continue to fight for rights that have been denied them for centuries.
Inspiring, and at times rather funny, The Divine Order reminds women of how far we've come and far we must still go. Its characters band together, united under the cause of women's rights, and leave the women in the audience feeling both empowered and aware of the obstacles still left to face.
© Roza M. Melkumyan (10/27/17) FF2 Media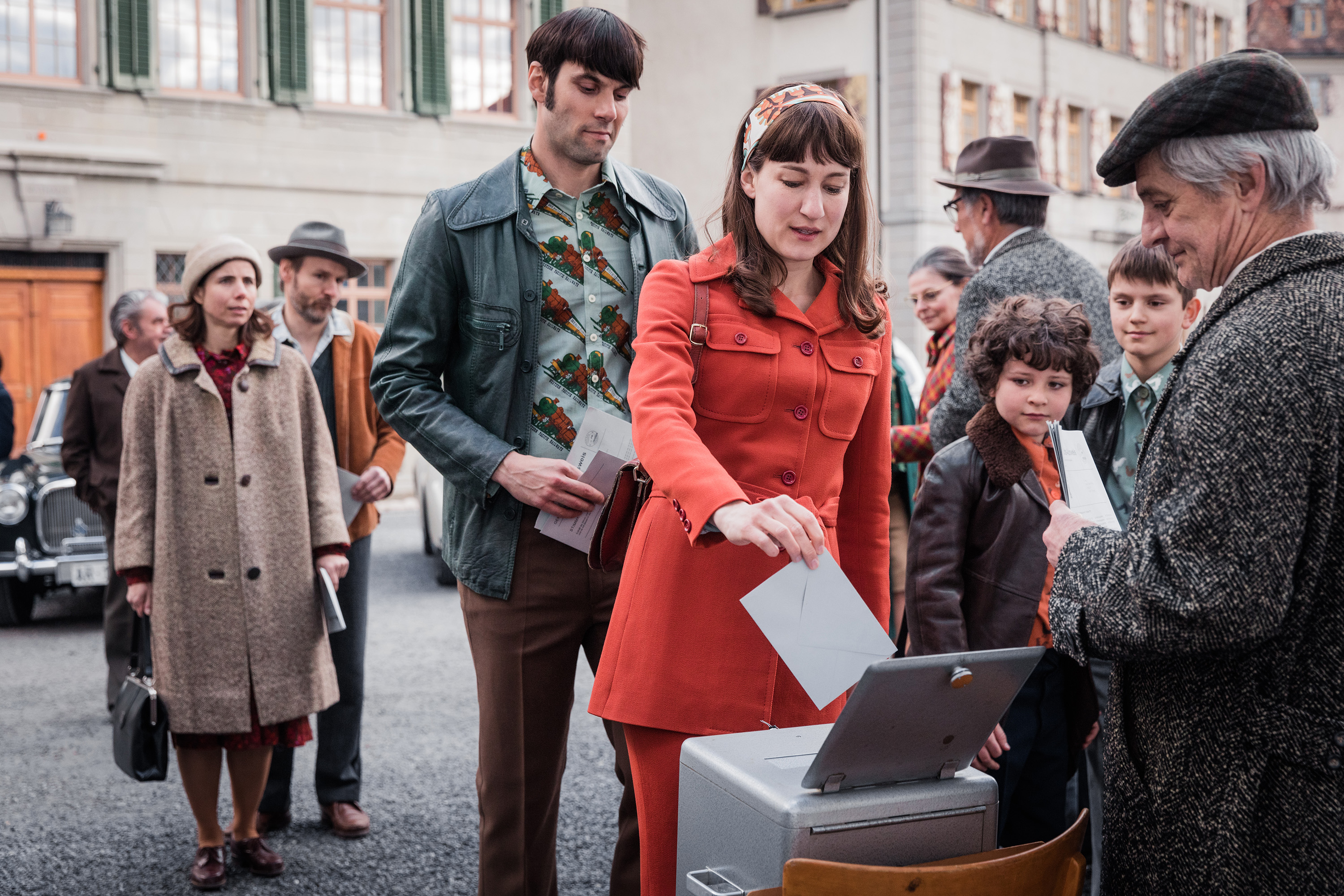 Photos: Nora advocates for women's right to vote; Women in Zurich rally for the right to vote.
Photo Credits: Zeitgeist Films
Q: Does The Divine Order pass the Bechdel-Wallace Test?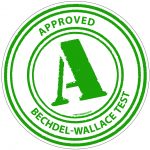 Yes.
Nora and Theresa worry together over Hanna's well-being, and agree to help her in any way they can.
Two Cents from Senior Contributor Stephanie A. Taylor
Although Petra Volpe's film is set in early 1970s Switzerland, it is certainly prevalent for today. The film focuses on women's suffrage during that particular era, but there's a broader context about perseverance and sisterhood. We, as a whole, have come a long way. But, there is still more to go. From wage gaps to sexual harassment, we have to keep fighting and embrace our so-called "yoni power." The right for women to vote was decided for women by men, but it took women's proactiveness and endurance of their antagonists to move along.
Marie Leuenberger's acting was compelling as Nora. From her hesitation to join the cause, to her full-fledged involvement, Leuenberger's talents shines through. Writer/Director Petra Volpe captures the misogyny of the era, particularly when a group of men barge into the women's refuge in the middle of the night to take their wives home. She shows the women who supported the cause, went on strike and overcame setbacks. The Divine Order is inspiring, humorous and powerful. (SAT: 4.5/5)