Mr. Roosevelt, written, directed, and starring Noël Wells, is a quirky comedy about "Emily Martin" (Wells) and her return to Austin, Texas after she receives a phone call from her ex-boyfriend, "Eric Kline" (Nick Thune) telling her that her cat, Mr. Roosevelt, has died. However, Mr. Roosevelt's passing is not the biggest change Emily finds in Austin. She discovers that Eric has a new girlfriend, "Celeste Jones" (Britt Lower), whose togetherness, maturity, and grownup lifestyle appear to be everything Emily is not. As a struggling comedian in Los Angeles, whose claim to fame is a viral video, Emily must come face to face with her own insecurities while dealing with the death of a loved one. (EBT: 4/5)
Review by FF2 Contributor Elyse B. Thaler
  "Emily Martin," (Noël Wells), is a struggling artist in Los Angeles desperately trying to find her place in the industry. She is not quite an actress, her comedy is offbeat and at times jarring, and her only success is a viral YouTube video that she never made any money from.
However, failure is not an option considering she left her friends and (now) ex-boyfriend, "Eric Kline" (Nick Thune) behind in Austin, Texas to pursue her career.
Yet, as soon as she receives a call from Eric telling her about the passing of Mr. Roosevelt, Emily books the first flight available back to Austin. Mr. Roosevelt was the cat Emily shared with Eric, and was also, unfortunately, one of the many casualties of her rash decision to move to Los Angeles.
Surprisingly, the loss of Mr. Roosevelt is not the most poignant change Emily faces in her return to Austin. In fact, almost immediately after her arrival, she realizes that everything is different. Eric has a new girlfriend, "Celeste Jones" (Britt Lower), and together they have redesigned the home Emily used to share with Eric and, in a way, Celeste has redone Eric as well.
Celeste is one of those annoyingly perfect women who you want to hate but can't because they are genuinely nice. Celeste posts perfect photos on Instagram, has perfect frie
nds over for perfect dinner parties, and has molded Eric into the perfect boyfriend.
Together, all these facts make Emily feel even more inadequate as she grapples with the realities of her floundering career, and also, to the pain she might have caused the people (and cat) once important in her life. However, perhaps her return to Austin is precisely the wakeup call she needs to find her way out of past mistakes.
Noël Wells has such a unique comedic flair that even in moments that run the risk of coming off as cliché, she manages to light up the screen. She is especially endearing in her relatability. After all, what is more familiar than feeling inferior when up against change? Wells manages to take the "quirky girl" shell and make her human in her honesty.
Britt Lower's portrayal of Celeste is also exemplary in that Lower takes a character that could easily have been the villain, and instead, makes her someone who is simply unapologetic for having her life together.
There is a tendency to romanticize the wandering lifestyle Emily leads. However, there is also honesty in a woman who thrives off routine and predictability. In Celeste, Wells writes a beautiful foil to the spontaneous and, at times, self-absorbed Emily.
Mr. Roosevelt, written, directed, and starring Noël Wells, is a refreshing example that women can make smart and relatable comedy that feels genuine in its portrayal of the young adult generation. Like Emily Martin, most of us just want to make it to the end of the day a little bit more ahead than when the day started. Also, just like Celeste, we are allowed to know exactly what we want and how we want it without feeling shame. You should see Mr. Roosevelt to support young, female filmmakers. But you should also see it simply because it is a fun, unconventional comedy that has a lot of heart.
 ©Elyse Bunt Thaler (11/21/17) FF2 Media
Check out Lesley Coffin's interview with Noel Wells here!
Top Photo: Emily about to lose control as Celeste leads a toast to Mr. Roosevelt's life.
Middle Photo: Emily filming her YouTube video that went viral.
Bottom Photo: Emily meeting Eric at the vet where she is introduced to Celeste for the first time.
Photo credits: Dagmar Weaver-Madsen
Q: Does Mr. Roosevelt pass the Bechdel-Wallace Test?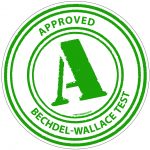 Yes.
There are many conversations between Emily Martin and other women that do not involve men. For example, Emily has multiple conversations throughout the film with various women about her career and, more specifically, her viral youtube video.
SaveSave