Despite a powerful & impressive centerpiece for her story, Serena Dykman's Nana documentary fails to add a new voice to the cannon of Holocaust documentaries and finds itself struggling to break free of a school project type feel. (EML: 3.5/5)
Review by FF2 Associate Eliana M. Levenson
Serena Dykman always knew that her grandmother, her nana, was a Holocaust survivor. She'd seen the tattooed number on her nana's forearm. She'd heard her grandmother use words like "Nazi" and "Auschwitz." She knew that camera crews and journalists often filled her grandmother's living room for various interviews. Still, when her nana died, Dykman was only 11-years-old, too young to fully understand the weight of her grandmother's story, her history, her survival.
Fast-forward a decade or so and Dykman, now a college junior, sets out on a journey that's part history lesson, part self-discovery. Using her nana's memoir as a guide, Dykaman and her mother Alice retrace the steps her nana took during and after the war.
Born in Bedzin, Poland in 1919, Maryla Michalowski-Dyamant has what she describes as a "normal childhood". She knew she was Jewish, but the family wasn't particularly religious. Growing up, Dyamant was an incredibly bright student with aspirations of being an opera singer. However, as she describes it, everything changed when the Nazis invaded Poland.
From there, Dyamant's story can seem "predictable" – the Nazis take over and slowly but surely the Jews began to lose everything. First branded with Star of David armbands, then isolated in ghettos as they waited to be put on trains for deportation to what they, by this point, knew were death camps.
On her travels, Dykman and her mother visit the memorial site of a Jewish synagogue that was burned down with all of the congregants still inside. Just one of the many sites in Bedzin that serves as a reminder of the cruelty and violence the Jews suffered and holds the memory of the ghosts of those who, unlike Dyam
ant, did not make it to the other side of the war.
Using archival footage of her nana's various interviews with other publications interspersed with personal footage collected on her travels, Dykman creates a charming home-movie feeling narrative that centers around her grandmother's actual words. Through the old interviews, Dyamant is able to tell her own story, giving voice to the atrocities that, in the modern day, so many deny or misunderstand.
Dyamant speaks with the witty sarcasm that has come to be a staple of Holocaust survivors tired of the repetitive questioning and the desire for interviewers to find understanding of the Nazi's evil in the accounts of those who survived. In one interview, when asked why Hitler chose the Jews, Dyamant matter-of-fairly responds that she couldn't know, Hitler never confided in her. It's this defiant strength that makes Dyamant such a powerful speaker, captivating to watch.
But, beyond the magnitude of Dyamant's personal account and the framework of a family story, the contributions by Dykman to her own film fall short of enhancing the narrative. The interviews Dykman herself conducted with those who knew and worked with her grandmother seem awkward and don't add any sort of interesting perspective to the story. While the top of the film suggests Dykman hopes to explore anti- Semitism of the 2010s in Belgium & France by revisiting her grandmother's story of World War II, this theme never gained any traction.
Overall, Nana as a compilation of Maryla Michalowski-Dyamant's interviews throughout her lifetime is a powerful voice that needs to be heard at a time when belief in the atrocities of the Nazis are starting to feel too distant to be relevant. However, as a complete film, there is no added value from Dykman's personal journey and no point of view from Dykman as a director. So, unfortunately, Nana winds up feeling like a lazy school project where Dykman relied heavily on work that had already been done rather than creating her own body of work.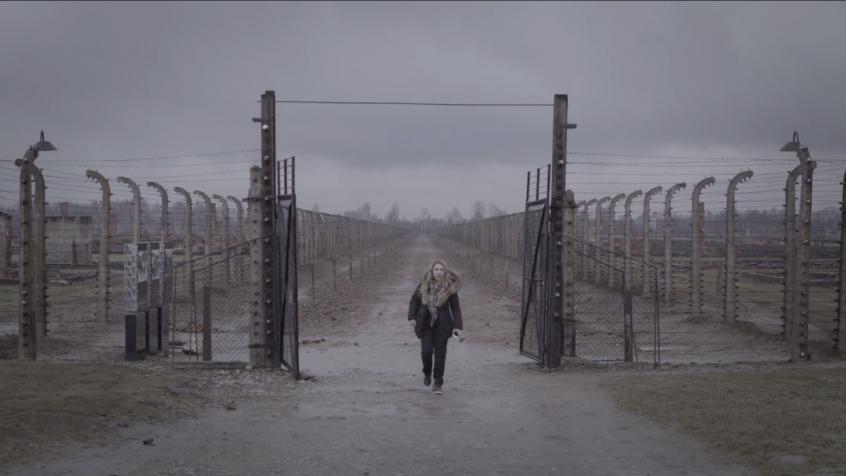 © Eliana M. Levenson FF2 Media (4/18/17)
Top Photo:  Nana (Maryla Michalowski-Dyamant) in a photo outside of Auschwitz "holds" a picture of her daughter, Alice, and granddaughter, writer/director Serena Dykman.
Middle Photo: Alice & Serena Dykamn read from Maryla's memoirs as the travel across Europe seeking answers.
Bottom Photo: Writer/Director Serena Dykman stands outside of the gates to Auschwitz. 
Photo Credits: First Run Features
Q: Does Nana pass the Bechdel-Wallace Test?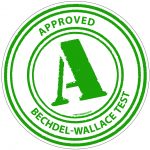 Indeed it does! Throughout the film, it cuts back to Serena & her mother Alice sitting in the last remaining synagogue in Bedzin discussing Maryla's legacy!