Ramaa Mosley's Lost Child is a powerful story about returning to one's roots to find healing. Both suspenseful and affecting, it paints a noble portrait of someone's journey of working through a past trauma.  (HRM: 4/5)
Review By Hannah Mayo
After being processed out of the army, "Fern" (Leven Rambin) returns to her hometown deep in the Ozark Mountains planning to track down her brother Billy (Taylor John Smith). She settles into her just-passed father's home, planning only to stay for a few days, but is quickly engrossed by the folkloric characters of the region when she finds a mysterious child (Landon Edwards) wandering alone in the woods.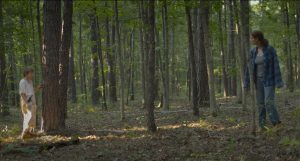 Unable to identify the boy Fern takes him in, but her health rapidly spirals and she becomes paranoid after her neighbor identifies the boy as the Tatter Demalion, a spirit that sucks the life out of whoever invites it into their home. As the lines between reality and fantasy become increasingly blurred, dark familial trauma is revealed in Fern and the boy's past that they both must heal in order to create a home in the Ozark Mountains.
Director Ramaa Mosley masterfully crafts a suspenseful story that kept me questioning what was real and wasn't. Reality and history within Lost Child are clouded by the folklore of the region, allowing a haunting atmosphere to take form that echoes the trauma many of the characters are faced with. While watching, it feels as if we are working through Fern's clouded memories to get the root what is plaguing her mentally and manifesting physically.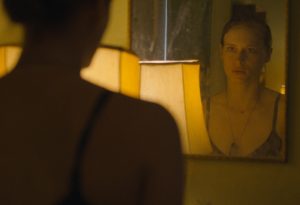 The film's cinematography is realist and natural, yet still captured the introspective quality of the film. At first I was off put by this style and didn't think it was appropriate, but as I grew to understand the true nature of the film it ended up making sense and kept me grounded in the reality of the story when the plot strayed away from it.
I found this film deeply affecting, an honest portrayal of what it takes to overcome a trauma that has been with you since childhood. It tackled an extremely difficult and complex issue with a grace and poetry that I am grateful for. Anyone who has put in the effort to heal a psychological pain can relate to the process this film depicts, and it is something I believe everyone should watch.
Read Lesley Coffin's interview with Ramaa Mosley here.
© Hannah Mayo (September 2018) FF2 Media
Photo Credits: Breaking Glass Media