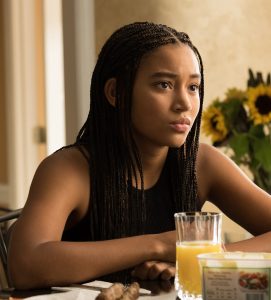 When 16-year-old "Starr Carter" (Amandla Stenberg) witnesses the unjust, fatal shooting of her friend at the hands of a police officer, her life is changed forever. Already caught between the worlds of her mostly black neighborhood and her mostly white prep school, Starr must overcome the pressures around her to find her own voice. Based on Angie Thomas's acclaimed young adult novel of the same name, The Hate U Give is a moving, unforgiving force of nature that explores the humanity that lies underneath political and social controversies regarding the black community. (RMM: 5/5)
Review by FF2 Associate Roza M. Melkumyan
The Hate U Give opens with a strike at the heart of a controversial issue in America: police brutality against the black community. On a sunny day in Garden Heights, the Carter family sits down to listen to the father, husband, and head of the family, "Maverick" (Russell Hornsby), give a lecture on how to behave when stopped by a police officer. He makes it clear that skin color is enough to warrant suspicion. When that happens, hands must stay on the dash and no back talk is allowed. Though concern for the safety of his children compels him to instill this fear in them, he reminds them that no matter what anybody says, black is still powerful.
Symbols of power are everywhere in this film, not only in the Carter children's skin color but in their names. Named for the seventh statement in the Black Panther Ten-Point Program, eldest son "Seven" (Lamar Johnson) is torn between his studies and the call to join the local gang led by "King" (Anthony Mackie). 16-year-old protagonist "Starr" (Amandla Stenberg) is named after light. The youngest, "Sekani" (TJ Wright), is named for joy.
Some people might call Garden Heights "the hood", but Starr calls it home. Her mother "Lisa" (Regina Hall) is a nurse at the local hospital while Maverick, a reformed drug dealer and former gang member, owns a corner shop. According to Starr, you only go to the local high school "to get jumped, high, or pregnant" so she and Seven attend the predominantly white Williamson Prep. Though Starr has her best friend "Hailey" (Sabrina Carpenter) and boyfriend "Chris" (KJ Appa) at school, she often feels like she must conceal part of herself in order to fit into the community. When the white kids use black slang, it's cool. When Starr uses it, she's "hood". She doesn't want to give her classmates any reason to label her as the "girl from the ghetto" so she chooses her language carefully and avoids conflict.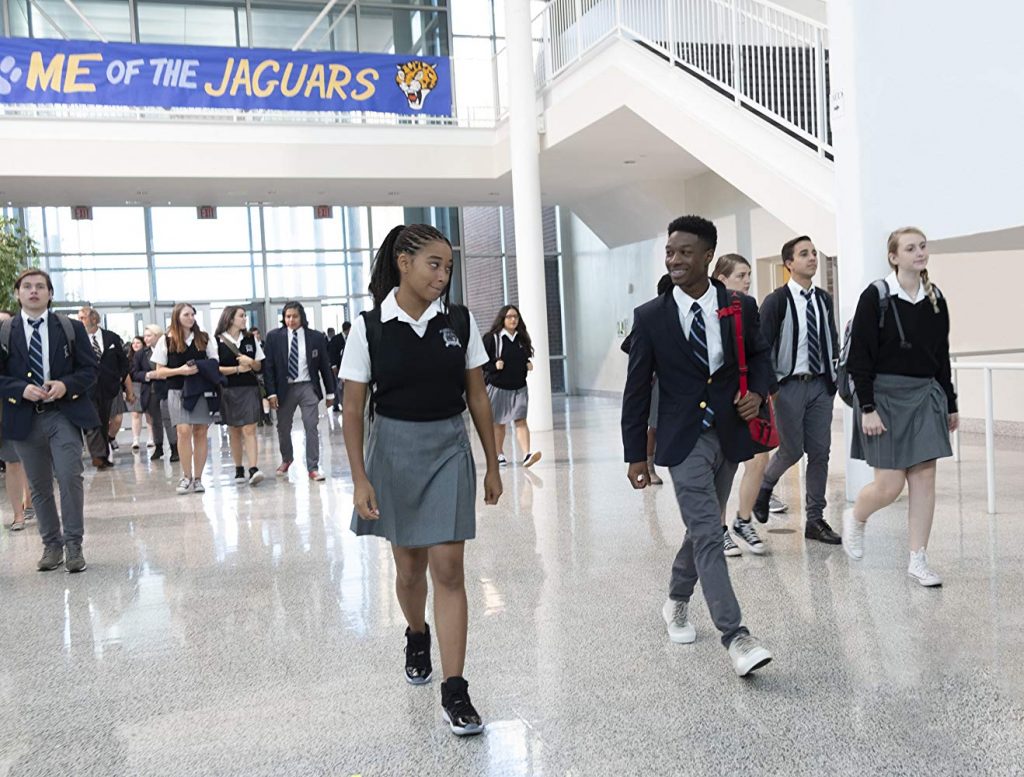 At a nighttime party back in Garden Heights, Starr runs into her childhood friend and crush "Khalil" (Algee Smith). After a fight breaks out on the dance floor and a gun is shot, the partygoers flee the scene and Khalil offers to drive Starr home. In the car, Starr expresses concern for Khalil, who has been dealing drugs for King in order to support his sick mother. Starr turns Khalil down after he kisses her. He says that he can wait for her. If a heart can truly break, then this is when mine did. Seconds after this declaration, the car is stopped by a white police officer. Remembering what her father told her, Starr puts her hands on the dash and urges Khalil to do the same. But Khalil is angry that he's been stopped when he hasn't broken any laws. The filming of this scene combined with the stellar script writing makes for a string of narrative pulled so taught that the tension is palpable. After he's told to remain outside with his hands on the vehicle, Khalil pulls out a hairbrush from the front seat and is shot dead. Apart from the officer who committed the act, Starr is the sole witness.
Khalil's murder sets Starr's story in motion as voices from her friends, family, and community all demand her attention. Knowing that Starr's testimony is crucial to the fight for Khalil's justice in court, activist and lawyer "April Ofrah" (Issa Rae) urges Starr to speak out. Lisa, however, wants to protect Starr from potentially harmful media attention.  A thinly veiled threat from King and his gang members makes it clear that Starr is in a dangerous situation. Still mourning the loss of her friend and facing pressures from all sides, Starr must also navigate a school environment that knows next to nothing about what she must endure.
This movie, as well as the book it takes its content from, is a testament to how brilliantly the young adult genre can relate to the people and social turmoil of our time. It isn't just a wonderful addition to the vault of young adult films, it is no less than a modern epic. It is love, loss, hate, violence, social commentary, and the struggle of a people to be treated like people. As Ofrah declares to the Garden Heights community, it's about ending the view that black bodies are weapons. It's about ending self-fear because of the negative attention those black bodies attract.  
Regarding the facts or history of police brutality against blacks, film can really only scratch the surface. But what they offer, what this film offers through Starr's story, is so much more important – it creates a sense of empathy in its audience. I often see the movie theatre as an escape of sorts – I can enter a different world. The Hate U Give is not an escape; it is an awakening. It takes you to the emotional core of the world it has taken you to. It takes controversial issues, modern-day racism in America, racial profiling, and police brutality, and it lifts them from the lips of news reporters and puts them in the hands of one remarkable young black woman who, while kneeling in handcuffs, witnesses her friend's murder.
Director George Tillman Jr. and writer Audrey Wells deliver a film well worth watching. If the issue of police brutality isn't enough to draw you into Starr's world, then the way she must straddle the cultures of two communities should. Code-switching is the practice of alternating between two or more languages or varieties of language in conversation. While this term is often used to describe the situations of immigrants, it can also apply to a person juggling any kinds of culture, even if both are American. I find the exploration of Starr's two identities fascinating and heartbreaking. To feel like an immigrant in your own country is mentally taxing and often goes undiscussed.
As Starr says, "if you don't see my blackness then you don't see me." In this film, the sentiment of the black community towards their own skin color oscillates between the fear they were taught to feel and the pride they are learning to wield as a marker of social change. It is about a young woman's struggle to find her own voice and realizing that what's worth fighting for is what's worth dying for. GO SEE THIS MOVIE!
© Roza M. Melkumyan (10/5/18) FF2 Media
Featured Photo: Chris and Starr have a conversation in between classes.
Top Photo: Starr talks about the impending grand jury where she will speak.
Middle Photo: Starr and Seven start another day at Williamson prep school.
Bottom Photo: Khalil and Starr talk about their friendship on the way home from a party.
Photo Credits: Erika Doss
Q: Does The Hate U Give pass the Bechdel-Wallace Test?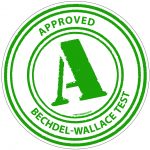 Yes.
Starr talks to her mother about her wavering friendship with Hailey and whether it's worth saving or not.