Co-writers and co-directors Hannah Marks and Joey Power tell an honest, raw love story of two people who prematurely deal with the hardships adulthood. When Elliot is diagnosed with cancer after only one date with Mia, the couple is thrust into the role of patient/caregiver in the midst of a passionate, burgeoning relationship. (BKP: 4.5/5)
Read FF2 Media's interview with co-writer/co-director Hannah Marks.
Review by Managing Editor Brigid K. Presecky
Like aftershocks following an earthquake, After Everything follows two early 20-somethings on accelerated journey of a romantic relationship. When partier Elliot (Shameless actor Jeremy Allen White) woos toothpaste-marketer Mia (Maika Monroe) in the New York Subway station, their meet-cute is followed by flirting, a date – and a cancer diagnosis.
When Elliot learns that he has a malignant tumor (his doctor played by the always-welcome presence that is Marisa Tomei) he does not confide in his parents or his roommate, but to the stranger named Mia he met while waiting for the F train.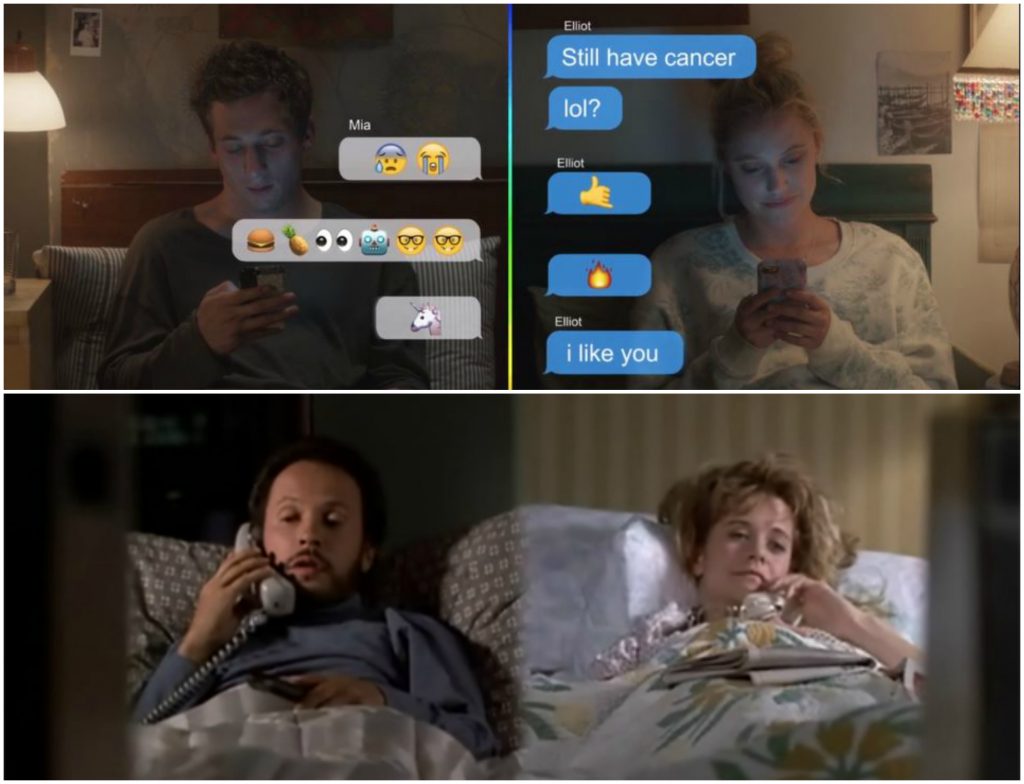 Kicking off their relationship with a heavy, life-altering moment sets their story in motion as they begin to fall in love, meet each other's friends, meet each other's families and catch life's curveball as a combined force.
"Semi-strangers," Elliot and Mia call themselves before their coupledom. And that's what this kind of story is to viewers, too, reminiscent of a classic tale: lost, rebellious boy meets the put-together, reserved girl he needs.
Here, it's as if the script to A Walk to Remember was split in two and shuffled around, updated and stars two equally likable leads in White and Monroe. As the film spans months into a year, they're given a variety of material to work with and execute it with complete believability. From the early flirting and chemotherapy appointments to the ups and downs of a serious relationship, these two people (and these two characters) are magnetic. Viewers feel as if they genuinely care about each other – or maybe it's the side-by-side nod to When Harry Met Sally that evokes such a notion.
The script, too, is a realistic depiction of living with cancer and living with a person who's living with cancer, like being tired and fed up with mundane tasks like sitting in a cubicle, having the "C word" become the only thing people see and the heartbreak of losing those first strands of hair. Even in potentially overlooked moments, it's honest. When Mia and a friend stand in front of a hospital vending machine, she exhaustively asks, "Do you want to split Funyuns?" It's a brief, throwaway line that will resonate deeply with anyone who's experienced similar circumstances.
And reality is exactly what keeps the story moving forward, past Elliot's illness and into the "What now?" part of their romantic journey. (Worth noting: Stranger Things star Joe Keery makes his blink-and-you-miss-him screen time a highlight of the film's third act).
It's a touching story, one that's painful and engaging from beginning to end. Whether or not Marks and Power intended to use the subway as a metaphor for their story, it works. Two people sharing their life together in the same place for a moment, but waiting for different trains? As timeless as it gets.
© Brigid K. Presecky (10/12/18) FF2 Media
Photos: IMDb
Q: Does After Everything pass the Bechdel-Wallace test?
No, but her bong-loving roommates supply the film's humor.