Outstanding rhythmic gymnast Margarita Mamun needs to be the best in order to make it to the Olympic Games. Can she do it? In her gripping documentary Over the Limit, director Marta Prus shines a light on the competitive and intense world of the Russian rhythmic gymnastics team through the eyes of Mamun. MTP: ⅘
FF2 Media Intern: Maiya Pascouche
Competition is and always will be a major part of Russian culture. The innate desire to be the best and make one's country proud is something ingrained in the fabric of what makes someone Russian. I connect with this because I am Russian. In Director Marta Prus's documentary Over the Limit, she attempts to peer into the world of Russian rhythmic gymnastics and expose the ruthless treatment of athletes striving to honor their country.
Prus delves into the life of Margarita "Rita" Mamun, a world-renowned rhythmic gymnast from Russia. Mamun has been struggling, never quite reaching her best and always doing less than her counterpart, fellow champion Russian gymnast Yana Kudryavtseva. She is becoming weaker and falling deeper into her insecurities. The first scenes we see feature Mamun after a meet where she has done too little and certainly not been good enough in the eyes of her coach and trainer Irina Viner. We see a faraway shot with the camera clearly zooming in while trying to seem respectful of their privacy that records the intense criticism Irina shouts at Margarita. Irina spits insults at a mile a minute, increasing the volume with every word. Rita keeps a tough face, but you can see that every one of Irina's words lands with a sting.
That dialogue is exactly what drives the film forward. Almost every single interaction between Rita and her coaches feels toxic and hateful, with a handful of niceties from her head coach Amina. The film was shot while Rita was on her journey to the Olympics, and Prus increases the intensity of the scenes; moving from intimate FaceTime calls between Rita and her boyfriend to hateful FaceTime calls featuring Irina watching Rita practice a few days before the Olympic Games.
Prus beautifully weaves together a sense of Russian nationalism and the desire to prove oneself in honor of one's country—and the image of how far one must go into order to succeed in the eyes of others. At one point Rita's coach Amina says, "You are not a human being—you are an athlete." that comment provokes an intense pause between the two of them, one that shows Amina's deep love for Rita but even deeper need to win. Prus plays with weighted moments and silence to create intense scenes of suspense, and you leave the theater angry and yet somehow ridiculously empowered to take action in a world where cruelty, hatred, and competition seem to be one of the only things surrounding us.
Q: Does it pass the Bechdel-Wallace Test?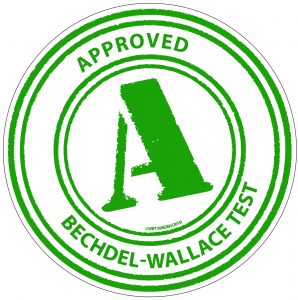 A: Yes!! The entire film follows a woman, on a female team, with female coaches. Almost every single conversation they have is about Mamun and her failure. Not incredibly uplifting, but a woman is the main discussion point.