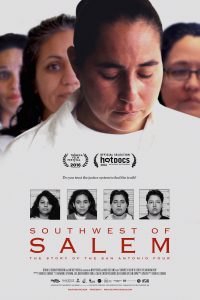 In her newest work, Deborah S. Esquenazi documents the story of the 'San Antonio Four,' four women who were charged with the raping of two young girls in Texas in the late 80s. It has been a controversial case that to date, is still awaiting a final decision by the judicial system. Southwest of Salem: The Story of the San Antonio Four gives a very private and investigative look into the years that these four women spent behind bars, and the years that they have spent looking to exonerate their names. The documentary uses home video footage from over two decades ago, as well as current footage, and attempts to paint a very clear picture for its audience. (RAK: 4/5)
Review by FF2 Intern Rachel A. Kastner
The first part of the film introduces us to the four women who were accused of the crime, Elizabeth Ramirez, Cassandra Rivera, Kristie Mayhugh, and Anna Vasquez. They were 19 and 20 at the time of the accusations. The film opens with interviews from inside their prisons. They are homosexual, and in describing their friendships, do relay that facet of their identities tying them together. Elizabeth explains in an interview that growing up in Texas in a religious community was very difficult for her, and she found comfort with these women who shared in her experience. The alleged victims were Elizabeth's two nieces – 7 and 9 at the time of the accusation. They were staying with their aunt for a few days in 1988. Months later, the four women were accused, charged and convicted for committing a crime that they all say never happened.
And just like that, their young adult lives are ended. Through actual footage from that time and recent interviews, we are given a glimpse into the nightmare that became their lives. Elizabeth was separated from her young children, and the women were all separated from each other when put in jail. Outside of their respective families and friends, no one took their claims of innocence seriously. Elizabeth was sentences to 37 and a half years, and the others were sentenced to 15 years. They all share similar sentiments of their feelings at age 20: they all believed that if they told the truth, they would be set free. But that is not what the jury dealt to them.
Nine years after their incarceration, a man named Darrell Otto, a research scientist from Yukon College heard about their case. Compared with statistics of other se
xual assault cases, he found the San Antonio Four case to be very bizzare and reached out to Anna. He believed them, and began to visit them in jail. On their behalf, he reached out to the Innocence Project of Texas to enlist help in exonerating these women. Together with attorneys, members of the Innocence Project of Texas and other organizations, the film details all of the complicated facets of the case. Debbie Nathan, from the National Center for Reason and Justice explains thoroughly that in the 80's, America was going through a Satanic Ritual Abuse Panic and was extremely homophobic. She describes this case as "the last gasp of the Satanic Ritual Abuse Panic of the 80s."
In 2012, Stephanie, one of the young victims, decided to come forward and speak to Darrell Otto. Deborah captures their entire meeting on film, where Stephanie admits that the entire testimony was false. She was forced by her father and grandmother to come forward about the sexual assault, and believes that they implanted those ideas in her head. The rest of the film follows Darrell and the four women as they fight for exoneration with this new testimony in hand.
Ultimately, the women are let out of jail after 16 years to await a new trial. This is a huge win, but there is still a long way to go until these women have the chance to call themselves "free". This film's breadth of footage and coverage from the time of the incident up until present time is what makes it extremely riveting. It opens up the legal system to hard questioning, and shows from one side, "how little truth and justice had to do with the legal system."
© Rachel A. Kastner FF2 Media (9/16/16)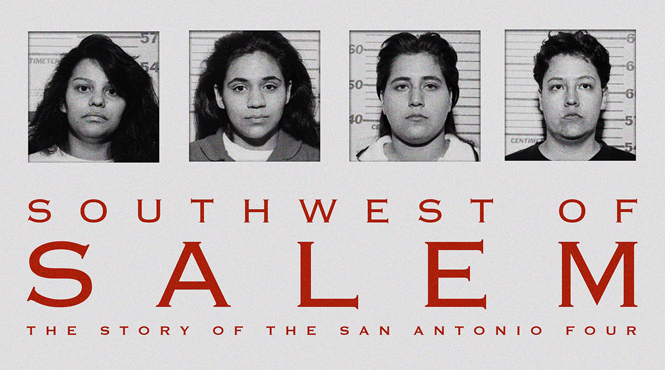 Top Photo: Promotional Poster for Southwest of Salem.
Middle Photo: Liz showing the interviewer her tattoo of a withering rosary.
Bottom Photo: Photo of San Antonio Four.
Photo Credits: Deborah S. Esquenazi
Q: Does Southwest of Salem: The Story of the San Antonio Four pass the Bechdel-Wallace Test?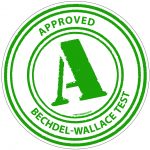 Yes.
Stephanie sits down to meet with her aunt and accused abuser after almost two decades. The two share in an emotional conversation full of remorse and unimaginable pain. It is one of the most memorable scenes of the film.