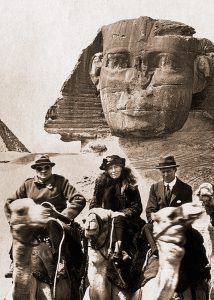 Look closely at this photo. What do you see?
This photo was taken in Egypt during the Cairo Conference of 1921. The two men on camels are Sir Winston Churchill (left) and T.E. Lawrence aka "Lawrence of Arabia" (right).
And the woman, seated in between two of the best-known Brits of the 20th Century? The woman  is Gertrude Bell. Who?
I do not blame you if you have never heard the name Gertrude Bell before, but I cannot help wondering why. More shocking still is that I never heard the name Gertrude Bell before I saw Letters from Baghdad, and I say this as someone whose all-time favorite film is Lawrence of Arabia. How can a woman once important enough to sit on a camel in front of the Giza Sphinx in between Winston Churchill and Lawrence of Arabia be such a surprise now?
Photos courtesy of the Letters from Baghdad press kit as posted on the website. These photos are owned by the Gertrude Bell Archive at Newcastle University. All Rights Reserved.
Q: Does Letters from Baghdad pass the Bechdel-Wallace Test?
Absolutely!